429800 seedlings of Hybrid, exotic vegetables & 7000 Cucurbit Poly-bags distributed among farmers during CFY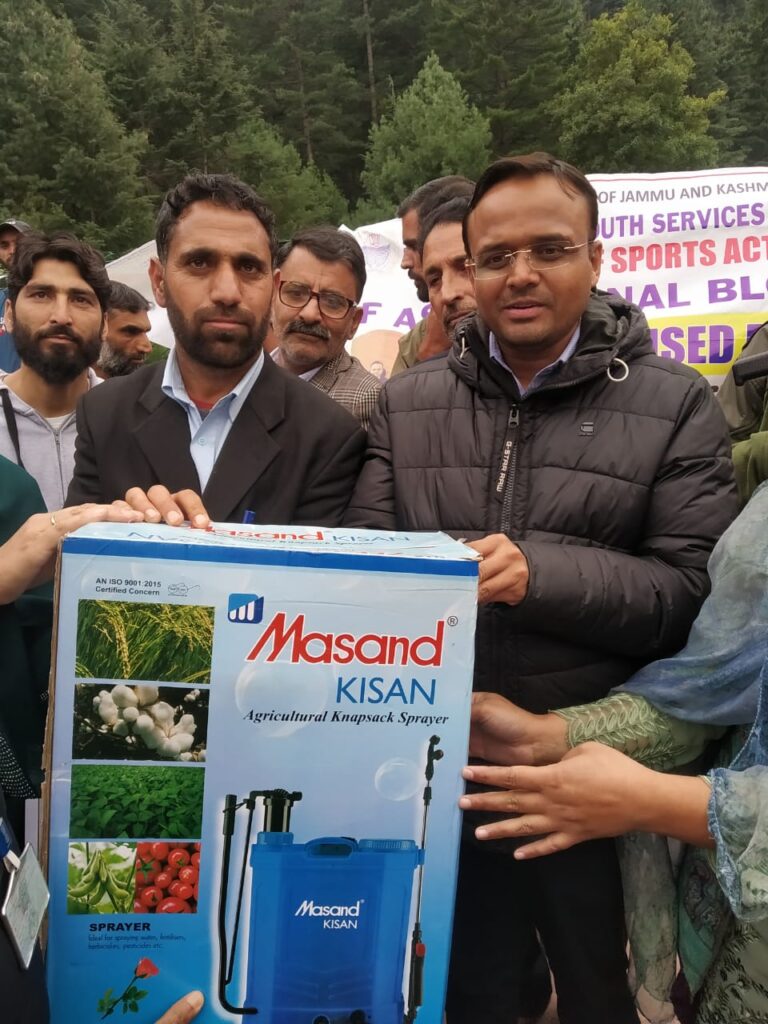 KUPWARA, May 25: Farmers in Kupwara district are reaping benefits and improving their organic vegetable production due to seedlings acquired from different Organic and high quality Hybrid Vegetable Farms and Seed Multiplication Farms (SMFs) run by the Agriculture Department.
The Agriculture Department, Kupwara under the directions of Deputy Commissioner (DC) Kupwara Dr. Doifode Sagar Dattatray has set a mandate for Technology transfer from Lab to Land through training, demonstrations, distribution of Quality seeds and planting material.
The Agriculture department is at present running six vegetable Farms across the district including Seed Multiplication Farm Dringla (Tangdar), Organic Vegetable Farm Kupwara, Model Agriculture Farm Khahipora (Zachaldara), Vegetable Farm Ganapora, (Langate), and Potato Farm Machil.
The aim behind the establishment of farms is to demonstrate latest technologies and innovations among the farming community through training and Farm Visits.
Regular visit of farmers, students, Agri- pruners is conducted for mass dissemination of information. Besides this, the farmers are given seedlings of High Quality, organic, Hybrid and Exotic vegetables on nominal charges produced from hi-tech poly houses.
During the current  Financial year 2023-24, a  total of 429800 seedlings of hybrid and Exotic vegetables and 7000 cucurbit cones (cucumber, bottle gourd, squish poly bags) were distributed among 8460 farmers from these Departmental vegetable farms on subsidized minimal rates.
Bashir Ahmad from Kupwara said that he has been taking seedlings of different vegetables from the organic Farm Helpal Kupwara which has helped him to improve his vegetable produce.
These seedlings are organic, high quality and are hybrid and yield good results
 "The seedlings taken from this farm produce a double crop than the traditional type of seedlings which we would prepare at home. The crop of hybrid seedlings has good shelf life," he said.
"We give farmers high quality seedlings and ensure that the seedlings are hybrid and organic. Once there is good seed, the farmer's production increases and it increases their income, the main aim of farms is to motivate and inspire farmers through the productive and modern techniques that are being applied for better farming and for better results," said Gurdeep Singh, Chief Agriculture Officer Kupwara.
During the current financial year, the department is planning to start vegetable gardening courses for interested farmers including Commercial Nursery raising, Protected Cultivation under Aspirational Panchayats Program as farmers interested in training will be selected from Aspiring Panchayats of the district and they will get theoretical training at Agriculture complex Kupwara with the help of visual aids and practical training at nearby vegetable farm.
With the timely hand holding and out-reach of farmers by the Agriculture Department, many farmers have now started cultivation of vegetables and seedlings under Greenhouse Structures on a commercial basis under the recently launched Holistic Agriculture Development Plan(HADP) of  the Government of Jammu and Kashmir UT.
Under the HADP maximum area is being brought under commercial and hi-tech cultivation to generate more employment in the Agriculture sector.
The Department of Agriculture with the support of District Administration Kupwara is intending to start more farms for propagation, training and multiplication of Medicinal and Aromatic plants, and development of Seed Multiplication for the benefit of the farming community in Kupwara district.