Cannes [France], May 28 (ANI): French filmmaker Justine Triet has won the prestigious Palme D'Or at the Cannes Film Festival 2023 for her film 'Anatomy of a Fall.'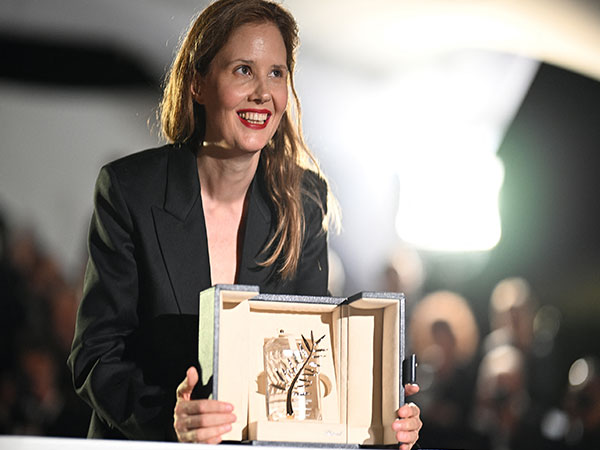 According to Deadline, a US-based media outlet, Triet has become the third woman to win the top prize at the Cannes Film Festival
She joined Jane Campion (1993's The Piano), and, more recently, Julia Ducournau who won for Titane in 2021. The award ceremony was held on Saturday.
Triet was preceded on stage by Jane Fonda who spoke before jury president Ruben Ostlund who announced the win. Said Fonda, "The last time I came (to the festival) was 1963, a lot of you weren't even born yet… There were no women directors competing at that time and it never occurred to us there was something wrong with that… We have progressed, but we have a long way to go." Still, she noted, perhaps presaging what was about to transpire, "We have to celebrate change when it happens. This year is the first time there are seven women directors in competition," as per Deadline.
Triet was emphatic in her acceptance speech and addressed the recent social unrest in France over retirement age reforms.
She said, "This year, our country has experienced a historic dispute… This dispute was denied and suppressed in a shocking manner, and this pattern of increasingly uninhibited dominating power is breaking out in several areas; obviously socially is where it is the most shocking, but we also see it in all spheres of society, and the cinema is no exception. The commodification of culture that the neo-liberal government is defending is breaking the French cultural exception. I dedicate this prize to all young female and male directors and to those who today are unable to make films. We see ourselves making room for them, this place that I took 15 years ago in a world that was a little less hostile which still considered it possible to make mistakes and start over," as per Deadline.
'Anatomy of a Fall' follows Sandra (Sandra Huller), a German writer, her French husband Samuel, and their eleven-year-old son Daniel who live a secluded life in a remote town in the French Alps. When Samuel is found dead in the snow below their chalet, the police question whether he committed suicide or was killed. Samuel's death is treated as suspicious, presumed murder, and Sandra becomes the main suspect, reported Deadline.