JAMMU, March 18: Airport Advisory Committee Meeting was held at Jammu Airport under the Chairmanship of Jugal Kishore Sharma, Hon'ble M.P., Lok Sabha, Jammu-Poonch Constituency.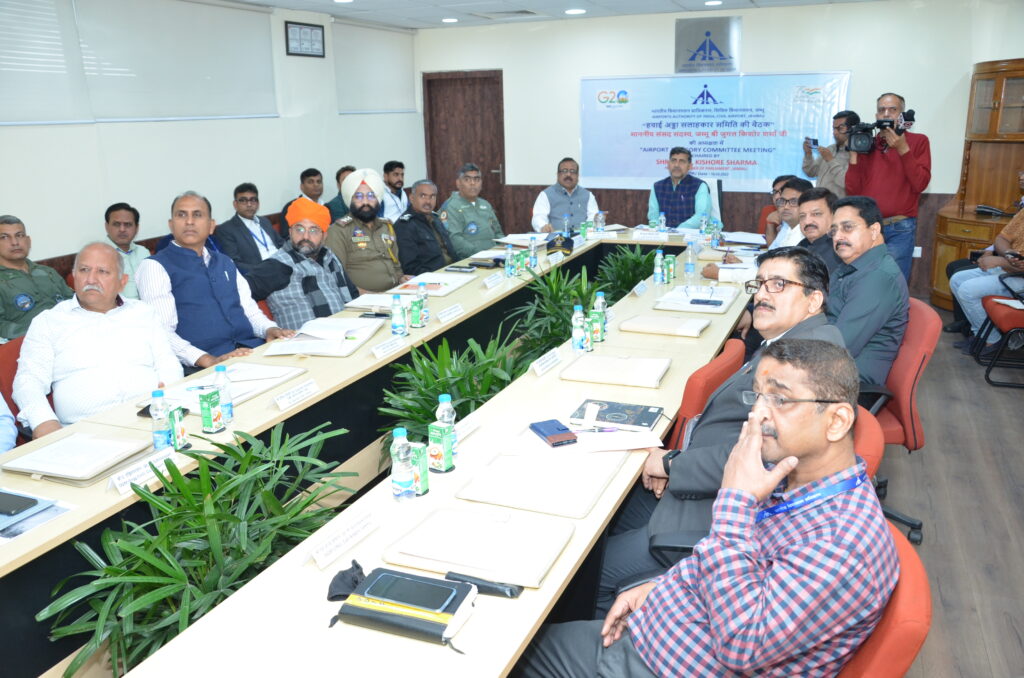 The meeting was convened by Sanjeev Kumar Garg, Airport Director, Jammu. A brief presentation was made by Airport Director highlighting addition of new sectors, passenger facilities, development works and various issues. Hon'ble Chairman took note of the latest developments regarding the land acquisition for the New Terminal Building in Belicharana area and also the blue print of the same was discussed.
Airport Director informed Committee members that New Car Parking has commissioned on 05.12.2022 for comfort of passengers. Committee members appreciated Airports Authority of India for providing New Facilities at Jammu airport. Ms. Avny Lavasa, Deputy Commissioner Jammu, Rahul Yadav,
Commissioner, JMC, CEO Cantonment Board, COO and SATCO of IAF Jammu, Rep. J&K Police, along with nominated members Arun Gupta, President Chamber of commerce, Vikram Randhawa Ex-MLC, Anil Kapahi, Davinder Choudhary, Dev Raj Sharma were present in the meeting.
Members raised the issue of addition of new flight operation for Dehradun, Chandigarh and Jaipur etc. and also raised demand for early morning flights to Srinagar.
Airport Director conveyed that flight for Dehradun is going to start soon by the end of March 23 and other new sector like Gwalior, Chandigarh also are expected to start soon. Jugal Kishore Sharma, Hon'ble MP appreciated the efforts of Jammu airport staff to get good CSI rating for round II/2022 and appealed the AAI and Other officers present in the meeting that we should pour our best effort and take initiative to sort out the issues coming in the way of construction of New Airport Terminal. The meeting ended with a vote of thanks to chair.
(NOTE: PRESS RELEASE PUBLISHED AS RECEIVED)