Budgam (Jammu and Kashmir) [India], September 18 (ANI): Jammu and Kashmir Lieutenant Governor Manoj Sinha on Monday met with the family of DSP Humayun Bhat who had lost his life in Anantnag encounter.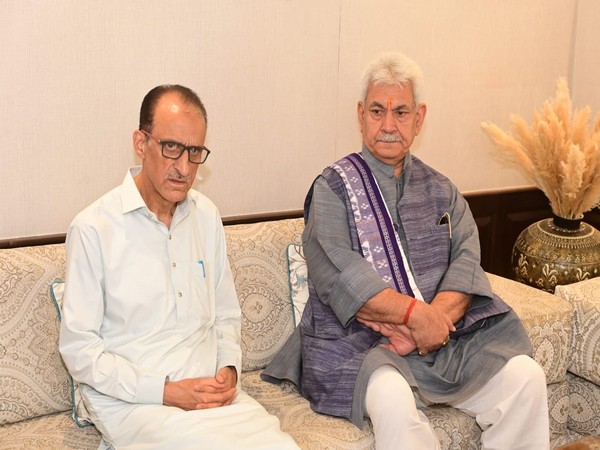 Office of LG, Jammu and Kashmir took to X and said "Visited Humhama, Budgam today to meet the family of Braveheart martyr DySP Humayun Bhat and expressed my condolences. Assured the family of all assistance and support from UT administration. The entire nation stands in solidarity with the bereaved family."
An Indian Army Colonel commanding a Rashtriya Rifles Unit along with a Major and a Deputy Superintendent of Police were killed in a gunfight with terrorists in Kokernag area of Kashmir's Anantnag district on Wednesday.
The killed officers have been identified as Colonel Manpreet Singh, Major Ashish Dhonak and DSP Humayun Bhat.
Earlier, Amid the ongoing encounter between security forces and terrorists in the Anantnag district of Jammu and Kashmir, Lieutenant Governor Manoj Sinha on Sunday said the deaths of soldiers, including two senior officers, will be avenged.
Speaking at the event titled 'Hum Sab Ek Hai' at SKICC, Srinagar, the L-G said while his administration was committed to maintaining lasting peace in the region, the people of Jammu and Kashmir also want to be rid of terrorism.
"We are committed to maintaining peace in Jammu and Kashmir. We will avenge the deaths of our soldiers. Those involved will be given a befitting reply and will have to pay a heavy price. The whole country is standing with our brave soldiers today. I have no doubt in my mind that the people of Jammu and Kashmir also want to be rid of terrorism," L-G Sinha said.
Earlier, Lieutenant General (Retd) KJS Dhillon, on Sunday, said three security personnel—two Indian army officers and one Jammu and Kashmir Police officer—who were killed in the Anantnag encounter were highly motivated officers, who had a lot of experience in counter-terrorist operations.
"DSP Humayun Bhat…was a very motivated officer…He was very tech-savvy, intelligent and always believed in leading from the front…All are very highly motivated people. They were top-grade officers. These operations were carried out in a very synergised joint manner," Dhillon added.