Imposition of Suo-moto property tax in J&K is undemocratic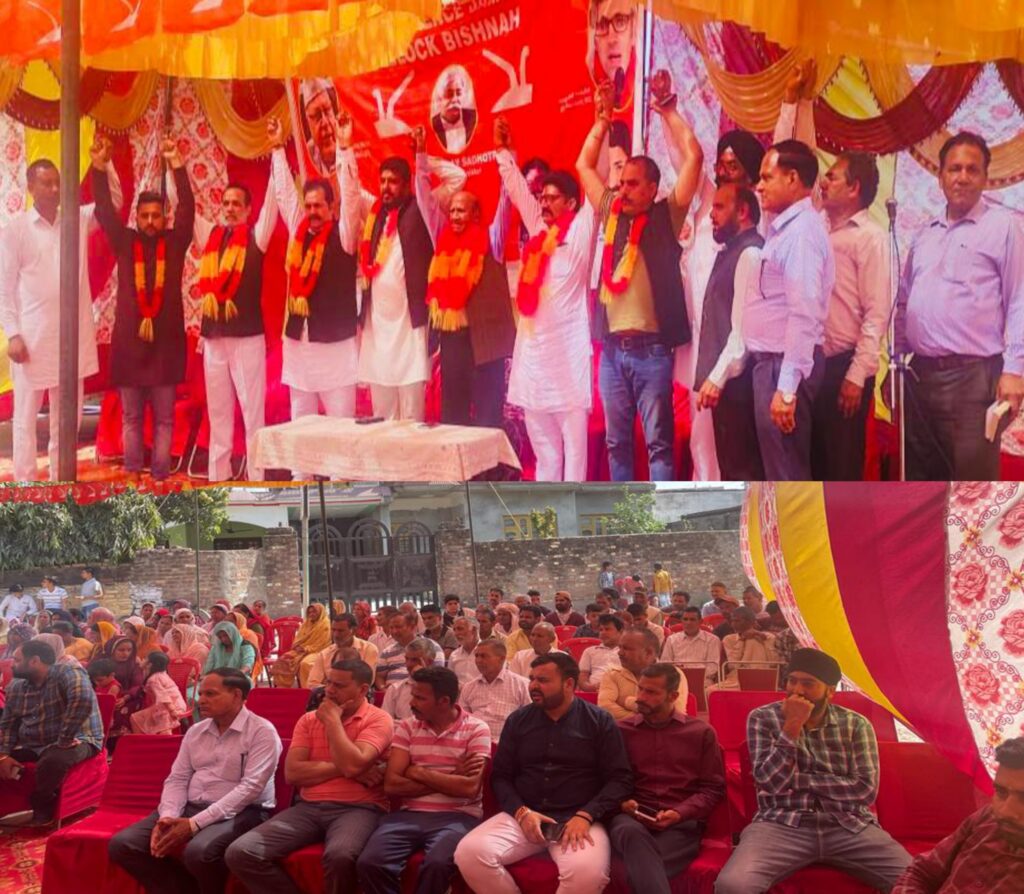 JAMMU, March 13: Rattan Lal Gupta, Provincial President Jammu and Kashmir National Conference (JKNC) Jammu has said that the J&K Budget-2023-24 has disappointed the people of Jammu and Kashmir as it has nothing new for J&K and is not in any way upto the expectations of the people of Jammu and Kashmir that is witnessing its worst phase under the incumbent BJP Govt at the Centre.
He stated this while addressing a meeting of the National Conference workers of Block Bishnah at Mehmoodpur here today. The meeting was conducted under the chairmanship of Sh Sham Lal Sadhotra, Block President Bishnah  and under the supervision of Naresh Bittu, District President Jammu Rural B.
The senior NC leader stated that the people of Jammu and Kashmir had a lot of expectations from the Govt on appropriation of funds to this Union Territory and more than that they were waiting for some novel schemes and measures that would address the burning issues pertaining to unemployment, tourism, trade, education, industries sector, agriculture and other crucial civic issues of J&K but it turned out to be a big flop show leaving them in utter disappointment.
Terming the J&K Budget 2023-24 as cruel joke, Rattan Lal said it is a fine blend of jugglery of words so that it seems to be a good budget to the common people. "To sum it all in one sentence the budget allocation to Jammu and Kashmir ensures that the poor become poorer and the rich become richer. This is an irony of the J&K people," he lamented.
Meanwhile, the Provincial President also criticized the LG led Administration for not following the constitutional mandate in imposing property tax without consultation with elected public representatives of Local Bodies in Jammu and Kashmir. Imposition of Suo-moto property tax in J&K is the domain of ULB and one feels compelled to ponder whether democracy is alive in J&K?
Rattan Lal also castigated the J&K Administration for having failed to address the burning issues of the people of border belt in Bishnah area.
Babu Rampal, Central Zone President of Jammu, Samba and Kathua, said NC is the only option for J&K people and they must ensure to bring it to power when Assembly elections are held.
Others who spoke in the meeting included: Vijay Lochan Provincial President SC Cell, Abdul Gani Teli Provincial President OBC Cell, Th. Yashvardhan Singh Additional spokesperson Jammu, Rakesh Singh Raka, Surjeet Singh Sasan Vice Presidents Central Zone, Dr. Vikas, Rachpal , Gurdarshan Singh, Thoru Ram, Garu Ram Panch and others.