UDHAMPUR, JUNE 22: To mark the International Yoga Day 2023, a series of activities including  an intercollegiate online Quiz Competition, sharing of Yogasana videos by volunteers from home, live demonstration of yoga by staff and volunteers within college campus was organized by Swachhta Action Plan (SAP) Club and NSS units of GCW Udhampur here under the guidance of  the College Principal, Prof. Anjali Mahajan and convenorship of Dr. Kewal Kumar and Prof. Sumita Rao. Mahatma Gandhi National Council of Rural Education (MGNCRE), Ministry of Human Resource Development, Govt. of India also collaborated on conducting the activities under the aegis of Azadi Ka Amrit Mahotsav (AKAM)- Campaign under the theme of " Unity" and G20 presidency.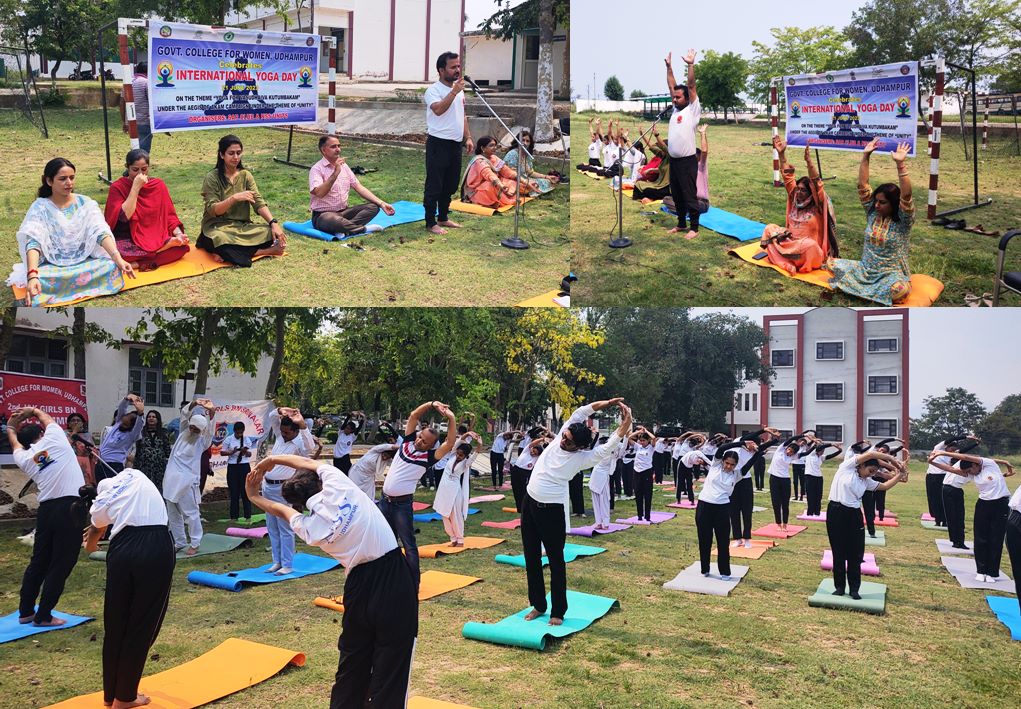 On day one, an online quiz was conducted where about 114 students including students from GDC Bhaderwah, GDC Kathua, ITI Bhadarwah, University of Jammu, Bhadarwah campus of University of Jammu in addition to students from GCW Udhampur, participated. Besides, some students from School education also participated in the quiz including SIKS Government High Secondary School Boys.
The day two witnessed a live Yoga session held as per IDY protocol. The Resource person/instructor for this session was Dr. Dinesh Kumar (PTI).
Around 110 volunteers, cadets and Faculty Members participated in this event and performed various yoga Asanas, Kriyas and Pranayam under the guidance of Dr. Dinesh Kumar.
After the yoga session resource person delivered a lecture on the importance of Yoga, Pranayam and diet for a healthy body and mind.
Students also submitted about 12 self-made videos of various Yoga Asanas performed at home during these days.
Earlier, the College Principal, Anjali Mahajan, in her address appealed to all the participants to make yoga an inseparable practice of their life for better living. She also lauded the efforts of  SAP Club NSS and NCC wings for organizing such events for the larger benefits of the student community.