Pune (Maharashtra) [India], August 30 (ANI): Industrialist and philanthropist Cyrus S Poonawalla welcomed the Miss World 2023 team in Pune. He expressed his excitement and said, "I am deeply honoured to extend a warm welcome to esteemed Ms Julia Morley, Chairperson and CEO Miss World Organisation, Mr Jamil Saidi, Chairman, PME Entertainment along with Current Miss World Karolina Bielawska, Sini Shetty, Femina Miss India; Emmy Peña, Miss Caribbean, Shree Saini, Miss America, Jessica Gagen, Miss England, and Carla Yules, Ms Indonesia in Pune.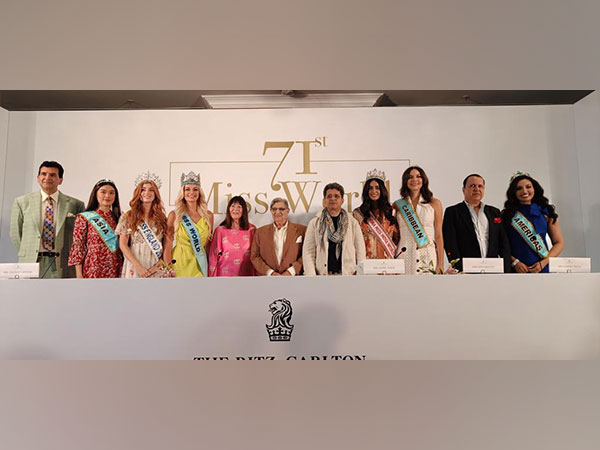 Our constant goal is to cultivate an atmosphere conducive to significant global dialogues and connections." "I am delighted that they got the opportunity to experience the charm of our exquisite city. I hope Pune gets to host the 71st Miss World Pageant 2023," he added.
The event was attended by Karolina Bielawska (Current Miss World 2022), Emmy Peña (Miss Caribbean), Sini Shetty (Miss World India), Jessica Gagen (Miss England), Shree Saini (Miss World Americas), Julia Morley (Chairman & CEO of the Miss World Organisation) and Jamil Saidi (Chairman of PME Entertainment).
During the event, Jamil Saidi, Chairman of PME Entertainment, said, "The trip to Pune represents the coming together of various world cultures and is just one more example of Mr Poonawalla's commitment to establishing global ties and enhancing intercultural exchange. His dedication to excellence is in line with Miss World's philosophy, which emphasizes beauty with a purpose.
We are extremely grateful for the heartfelt welcome by Mr Poonawalla." "By welcoming the Miss World 2023 team to his unique property, Mr Poonawallah not only demonstrates Pune's hospitality but also reinforces the pageant's principle of compassion and teamwork. We are truly delighted and full of gratitude", added Julia Morley, the Chairperson of the Miss World Organization.
The Miss World 2023 team, led by the reigning Miss World, initially visited Kashmir, then Delhi and Pune. Miss World 2023 is a celebration of beauty, talent, and purpose, bringing together contestants from varied backgrounds, exhibiting their accomplishments, and campaigning for a variety of causes.