Kargil, Sep 17 (PTI) Hundreds of enthusiastic runners turned up for the sixth Kargil International Marathon here on Sunday, an official said.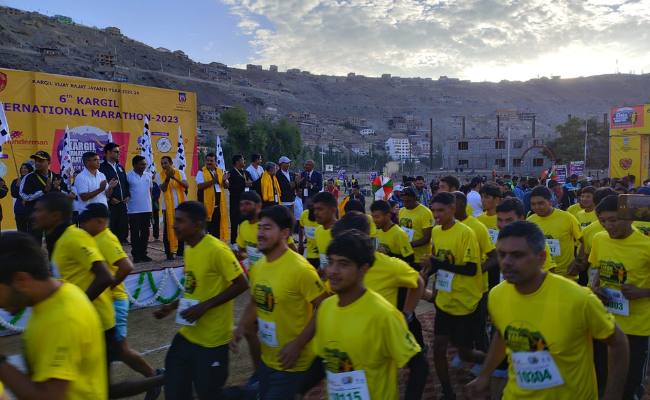 Secretary Youth Services and Sports, Ladakh, Ravinder Kumar Dangi along with General Officer Commanding 8 Mountain Division Kargil, Maj Gen Sachin Malik flagged off the runners from Khree Sultan Cho Sports Stadium in Biamathang, which served as both the starting and finishing point for all races, the official said.
Kargil Deputy Commissioner Shirkant Suse and Senior Superintendent of Police Anayat Ali Choudhary were among a large number of senior officers present on the occasion, he said.
The theme for this year's marathon is "Run for Hundurman", the official said, adding that it underscores the promotion of border tourism and the dedication to showcasing the enchanting village of Hundurman in Kargil as a destination worth exploring for both domestic and international tourists.
He said the marathon featured four distinct categories — full marathon (42 kilometres), half marathon of 21 km, 10 km and 5 km.
Significantly, various departments diligently coordinated to ensure all necessary arrangements were in place at the Biamathang stadium and other essential locations, contributing to the overall success of the event, the official said, adding the winners in each category were honoured with medals and certificates as tokens of recognition.
Dangi congratulated the district administration, Ladakh police and Sarhad Pune along with all stakeholders including the 8 Mountain Division of the Army for the successful execution of the sixth edition of the Kargil International Marathon.
He also commended the participants for their active involvement in the event.
Emphasising the significance of this event in elevating Kargil's global profile, he said international events like these contribute significantly to positioning Kargil as a prominent global tourist destination.
"Such initiatives benefit the local community by attracting attention and visitors from around the world," he said.