Sydney [Australia], May 23 (ANI): The first Indian-origin Lord Mayor of Australia's Parramatta City Council, the city with the fastest-growing population of the Indian diaspora, Sameer Pandey is hopeful to witness India and Australia relations "grow further" under the leadership of PM Modi.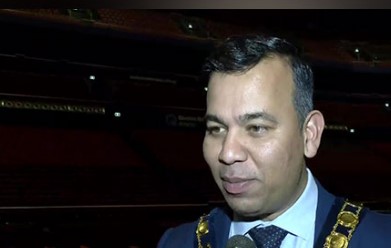 Pandey made the above remarks in an interaction with ANI after Prime Minister Narendra Modi addressed the Indian diaspora in Sydney at a community event on Tuesday.
Pandey was elected to the post of Lord Mayor on Monday and his election has coincided with Prime Minister Narendra Modi's visit to Australia. PM Narendra Modi arrived in Sydney as part of the third and final leg of his three-nation visit after concluding his visit to Papua New Guinea.
Lord Mayor Pandey told ANI, "Parramatta has the fastest-growing population of the Indian diaspora. I hope to see the relations between India and Australia grow further under the leadership of PM Modi."
"I am humbled and excited about my role. I want to create a city which is sustainable, smart inclusive and diverse," he added.
Meanwhile, Donna Davis, outgoing Lord Mayor City of Parramatta, said that he was amazed hearing PM Modi mention Harris Park and Little India in his address.
"We are so proud of the Indian diaspora that lives in and around Parramatta and we want to ensure that more people from India come here to study, to live and to invest," Davis told ANI.
Davis also said that it is wonderful to have a Lord Mayor of Indian heritage. Last night, she handed over the Lord Mayoralty of the City of Parramatta to Councillor Sameer Pandey.
The leader of opposition in Australia, Peter Dutton, also praised Prime Minister Narendra Modi saying that he is a great leader. He is set to meet PM Modi on Wednesday, where the two leaders will hold a discussion on several issues.
"The wonderful connection that we have with India continues to deepen and we should be very proud of the event here tonight. We will discuss a number of topics, ways in which we can continue to engage in the trade relationship, we want to see how we can expand the educational opportunities," Duttan told ANI.
Earlier in the day, Prime Minister Narendra Modi joined his Australian counterpart for the foundation stone laying ceremony of the 'Little India' Gateway to be built in Harris Park, Parramatta, Sydney, inhabited by a large Indian community.
"The Gateway will serve as a symbol of Australia-India friendship and diaspora's immense contribution to it," tweeted MEA official spokesperson Arindam Bagchi.