SAMBA, January 19: Health department Samba today organised a special camp under Azadi ka Amrit Mahotsav at Health and Wellness Centre- Primary Health Centre Sumb to grant age certificates.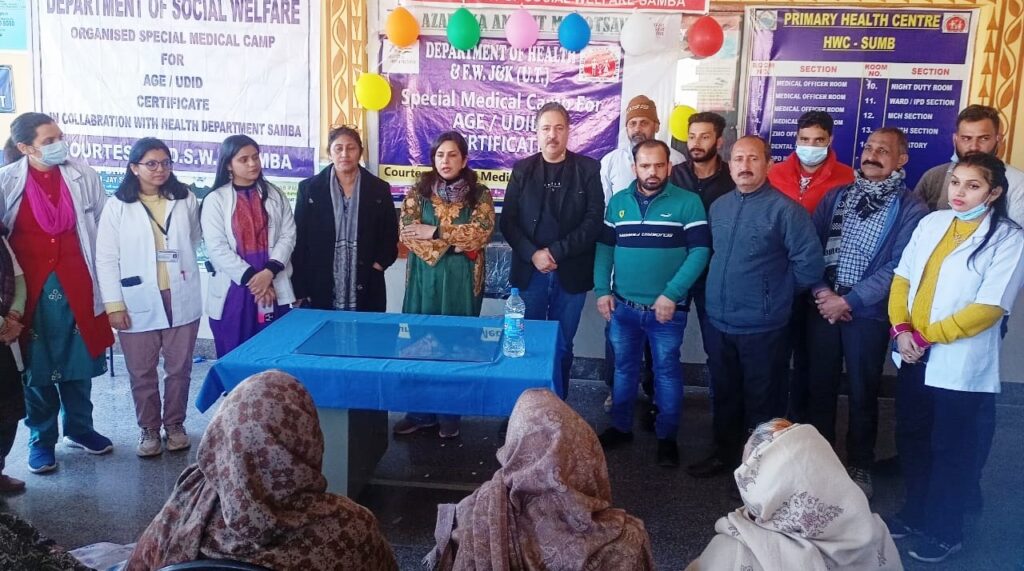 The camp was organised under the supervision of BMO Samba and ZMO Sumb. A special board was constituted for issuing age certificates consisting of all necessary specialities under one roof.
The camp was inaugurated by Chief Medical Officer Dr. Vidhi Bhatial. She informed the people that a medical board for issuing age certificates has been constituted at each Primary Health Centre level and senior citizens can avail the facility at the nearest PHC. She also made the public aware about the necessary documents required for getting age certificate and availing other online services of health department which include filing of online application on jkeservices portal, 2 passport size photographs, copy of ID proof (aadhar card),Copy of address proof (ration card, domicile certificate, votar card).
The other officers and officials present at the camp were Block Medical Officer, Dr Anju Bala; Nodal Officer RBSK,  Dr. Sandeep Rangroo; Dr. Zahida, Medical officer PHC Nud; Dr. Suchitra Dental surgeon, PHC Sumb; Pankaj, MLHP HWC-SC Raypur;   Vaishali MLHP, HWC-SC Deveka; Vijay Kumar, Senior Lab Technician CMO office ;               Puneet Sharma MTS, District Hospital  and other staff members of the HWC-PHC Sumb.
A total of 115 persons had their age verified and they were issued age certificates on the spot by the Chief Medical Officer as all the facilities were arranged under one roof.
 Earlier, a special board composed of all the designated specialists was established to issue certifications at the camp. Awareness regarding the procedure to get age certificates was also imparted among the public present.