DODA, September 19: To promote awareness about the sport activities, the district Youth Services and Sports Department Doda organised the week-long inter-district provincial level volleyball competition for under 14, 17 and 19 girls. Today the U19 girls competition kicked off at the beautiful sports Stadium, Doda under the supervision of District Youth Services & Sports Officer, Jaffar Haider Sheikh.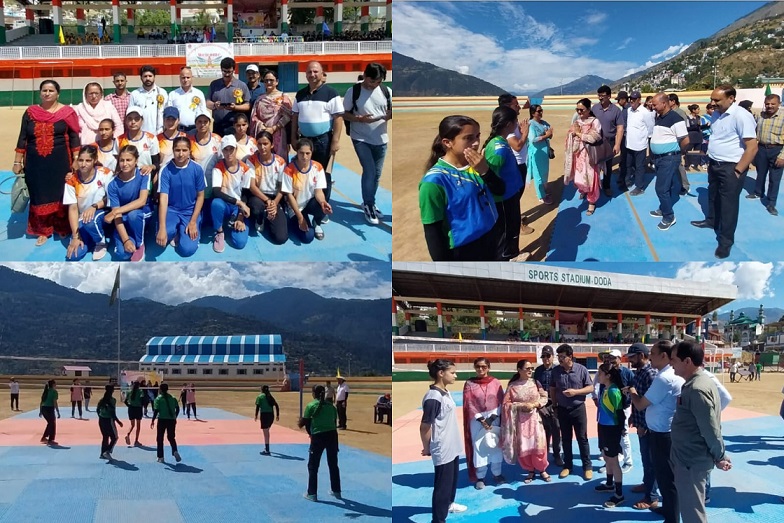 The competition began after the successful conclusion of the under 14 and under 17 Girls category yesterday.
Today, the spotlight shifted to the under 19 girls' category, where teams from almost all districts of the Jammu province except Ramban and Kishtwar showcased their skills.
The event was inaugurated with grandeur by   Pran Singh, Additional   District Development Commissioner. Joining him were Jaffer Haider, District Youth Services & Sports Officer (DYSSO) Doda Neeta Manhas, I/c ZPEO Bhalla.
In his inspirational address, the ADDC encouraged participants, emphasizing the significance of sports in the development of youth. He extended his warm and best wishes to the participants for their future endeavors and commended the Department of Youth Services & Sports, Doda, for organizing this event in a unique and engaging manner.
Before the matches commenced, all dignitaries, officials, and participants united to take the sports pledge, reinforcing the spirit of sportsmanship and fair play. As the competition progressed, one district Udhampur emerged as semifinalists by beating Poonch set to compete tomorrow at the same venue with the other semi finalists.