DODA, JUNE 21: To chisel the creative talent of the students, the Department of English Government Degree College Doda on Wednesday organised a poet of the year competition.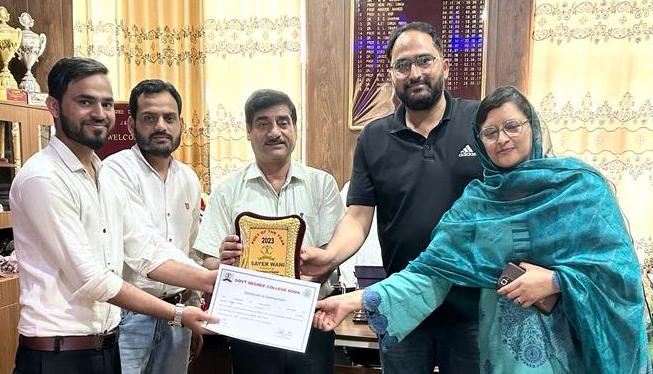 The event was organised under the patronage and guidance of theCollege Principal, Dr (Prof) Attar Singh Kotwal
In the competition, organised by Dr Jamsheed Ahmad Head department of English, Prof Manjeet Singh and Dr Tabassum Saleem, self composed poems were invited from the students and after a thorough check for plagiarism, syntax and grammar the short listed poems were mailed to three judges for their assessment.
 The result of the competition was declared today wherein Sayer Wani from semester 6th was awarded with the title of the poet of the year 2023. He was presented a memento and a certificate of appreciation.
Atya Tabassum from semester 6th and Kulvinder Singh from semester 2nd were felicitated with the certificates of appreciation for securing second and third position, respectively.
In his address, the principal of the college appreciated the faculty of the department for providing the students with a platform to hone their talent. He further assured all possible guidance and help to the department in their future endeavours.