SRINAGAR, JUNE 19: Jammu and Kashmir Entrepreneurship Development Institute (JKEDI) and Startup India (DPIIT), Government of India, jointly organized a workshop aimed at empowering women entrepreneurs of the UT of J&K.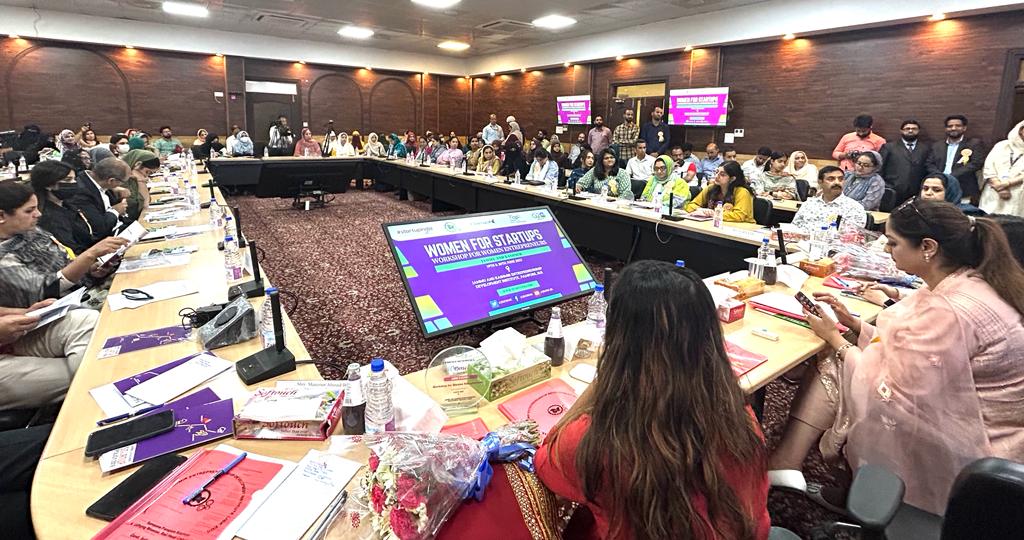 The workshop was organized under the overall guidance of Commissioner Secretary, Industries and Commerce.  
Dr. Hina Shafi Bhat, Vice Chairperson of KVIB graced the event as the chief guest.
"Empowering women entrepreneurs is not just about driving economic growth; it is about creating a more inclusive and equitable society. I am honored to be part of this collaborative effort by JKEDI and Startup India to provide women with the necessary tools and opportunities to thrive in the startup ecosystem. Together, we can pave the way for a brighter future, where women's entrepreneurial potential knows no bounds," said Dr. Hina.
She also assured the Director JKEDI that all efforts would be made to financially link these aspiring entrepreneurs under various schemes of KVIB.
The workshop featured insightful sessions, including "Journey of the Startup Ecosystem in Jammu and Kashmir and Support by Startup JK," led by Kritika Narula and Neha Nagpal, experts from Startup India, which also highlighted the Startup India Initiative, its schemes, and the benefits it offers.
Ajaz Ahmad Bhat, Director JKEDI, felicitated the guests and delivered an impactful inaugural address, setting the tone for an engaging and productive workshop.
The event was successfully kicked off with an enthusiastic audience eager to enhance their entrepreneurial journeys.
"This workshop signifies the Government's commitment to empower women entrepreneurs. By fostering an environment of innovation and providing them with the necessary support and resources, we are creating a platform for their dreams to flourish. I believe this workshop will ignite a new wave of entrepreneurial success in our region," said Ajaz Ahmad Bhat.
The workshop serves as a significant platform for women entrepreneurs in J&K, empowering them with the necessary knowledge, resources, and networking opportunities. Under the leadership of Lt Governor, Manoj Sinha and the guidance of Chief Secretary, J&K, the Government has introduced several initiatives to promote entrepreneurship and self-employment. The "My Town, My Pride" and "Back to Village" programs have emerged as highly effective platforms in this regard.
By facilitating their integration into the dynamic startup ecosystem of the country, JKEDI and Startup India aim to foster a thriving culture of innovation, entrepreneurship, and gender equality. The aim is to bridge the gap between aspiring entrepreneurs and established industry experts.
Building on the momentum of day one, the workshop's second day will focus on an essential aspect of entrepreneurial success: "Pitching to Investors and Incubators." This highly anticipated session will be facilitated by Rahul Narvekar, CEO, and Founder of the India Network.
Narvekar, a seasoned entrepreneur and investor, will share his expertise and insights, guiding attendees through the intricacies of crafting compelling pitches, securing crucial investments, and effectively leveraging the support of incubators to fuel business growth.
The first day of the workshop garnered widespread recognition for its comprehensive approach, addressing the diverse needs of women entrepreneurs. Around 150 aspiring entrepreneurs and startups participated and expressed their heartfelt appreciation for the collaborative efforts of JKEDI and Startup India in organizing such an empowering event.
Many local entrepreneurs like Nadish Rafiq (Kashmir Craft), Mehr Shaw (Maiden Kashmir), Mahoor Miftah (Imroz), Insha Mir (Eco Kash), Ruhab Lateef, Shaheena Akhter (Wearin Boutique), Nuzhat Akhter, Danish Rafiq, Gousia Nisar, Sheeba Shah among others participated.  Mrunmayee Paralikar from Pune and Sneha Kumari from Skill Development India were also present. 
The participants were confident that the workshop will equip them with the necessary tools and insights to overcome challenges, seize opportunities, and build successful and sustainable businesses.