Get ready for a dining experience like no other as we dive into the enchanting world of Dubai's Raining Street at Cote D Azurethoe hotel, as raved about by travel influencer cruisingcravings. This hidden gem located on the Heart of Europe island project is the epitome of romance and luxury, making it a must-visit destination for all the adventure-seeking souls out there.
As cruisingcravings shared on Instagram, the Rain Dining experience at Cote D Azurethoe hotel is truly a sight to behold. Imagine being surrounded by a gentle rain shower while indulging in delectable dishes. This 24/7 rainfall experience is exclusively accessible by yacht, adding an extra touch of glamour and excitement to your visit.
Situated on World Island near Dubai, the Côte d'Azur Resort boasts four luxurious five-star hotels that pay homage to the iconic coastal hotspots of the French Riviera. The Côte d'Azur Monaco hotel, located on the lively Rainbow Beach, offers breathtaking views of the sea and an array of authentic French dining options.
With limited menu options, the prices are surprisingly affordable, making it the perfect time to savor the culinary delights offered at Cote D Azurethoe hotel. On average, the cost for food ranges from 200-300 AED, ensuring an unforgettable dining experience that won't break the bank.
Beyond the Rain Cafe, the Cote D Azurethoe hotel has some amazing summer offers for guests to take advantage of. Why not make it a complete package by booking a stay and enjoying the sumptuous breakfast included? This way, you can fully immerse yourself in the magic of this extraordinary destination.
To discover more about the wonders of World Island and get a sneak peek of what to expect at the Raining Street, be sure to check out cruisingcravings' Instagram highlight. Get ready to explore this captivating island and uncover the plethora of activities it has to offer.
Keeping sustainability as a priority, the hotel carefully recycles and filters the water used for the rainfall experience, showcasing their commitment to the environment. The rainfall feature is controlled and only switched on for 2-3 minutes, providing guests with a truly mesmerizing ambiance. However, if you're yearning for an encore, simply make a special request and the experience can be enjoyed once again.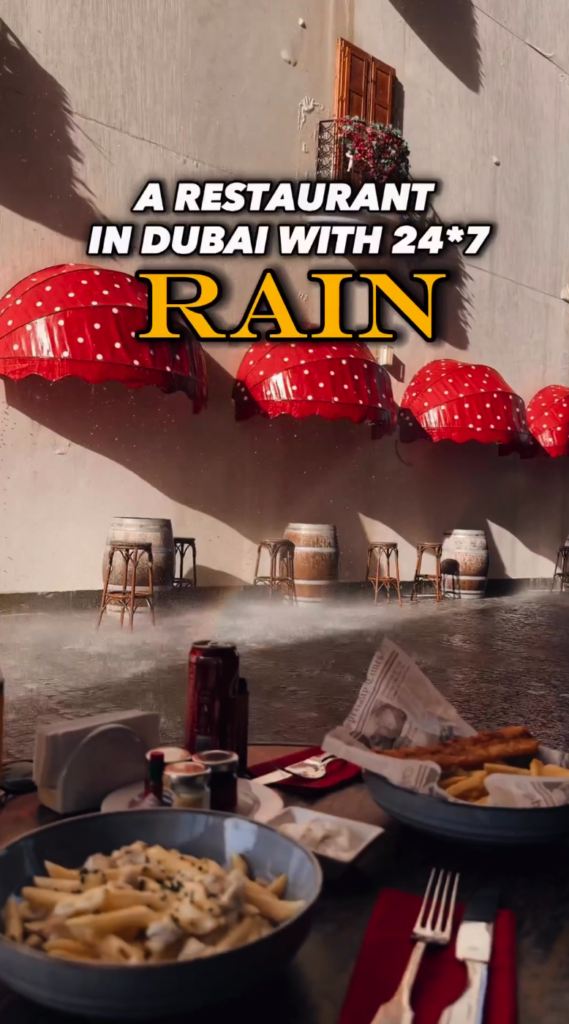 So, why wait? Plan your getaway to the Heart of Europe and prepare to be dazzled by the unique Rain Dining experience at Cote D Azurethoe hotel. Indulge in the romance, luxury, and culinary delights that await you on this extraordinary journey. Don't miss out on this chance to create memories that will last a lifetime.