BANDIPORA, September 19: The District Legal Services Authority (DLSA) Bandipora in collaboration with Education Department Bandipora Tuesday organized a Legal Awareness programme on NALSA (Child Friendly Legal Services to Children and their Protection) Scheme at Govt Boys High School, Kehnusa, Bandipora.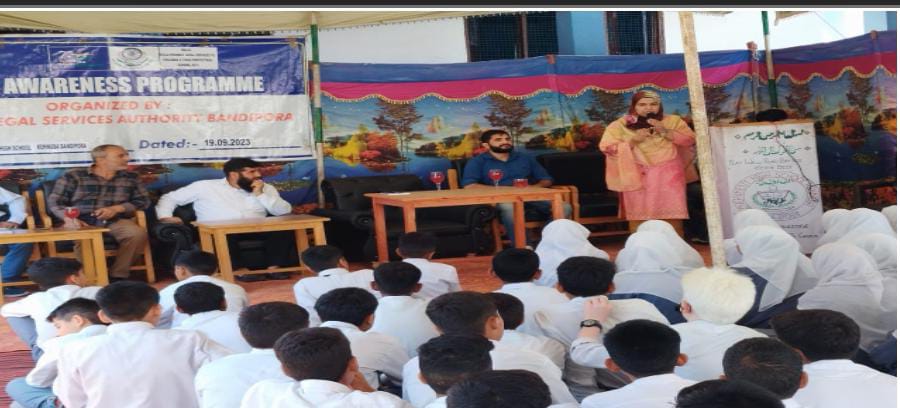 The programme was carried out under the supervision of Chairman DLSA (Pr. District & Sessions Judge) Bandipora, Amit Sharma. Nusrat Ali Hakak, Secretary DLSA, Bandipora was also present on the occasion.
The programme aimed at generating awareness among the masses regarding providing proper opportunities to the children so as to make them grow into responsible citizens of tomorrow and to open up all opportunities including the legal services for every child to unfold its personality and rise to its full stature, physical, mental, moral and spiritual.
At the outset, Secretary DLSA highlighted the objectives of organizing this awareness programme. She shed light on the civil, political, social, economic and cultural rights of every child and rights that should be afforded to children.
She also apprised that children are safeguarded against all forms of abuse, neglect and exploitation; safeguards for children in the criminal justice system; protection for children in employment; protection and rehabilitation for children who have suffered exploitation or abuse of any kind.
The resource person of the programme, Bilal Ahmad Bhat Deputy Chief LADC Bandipora while addressing, gave information on the constitutional assurances. He said that the development of the nation can be achieved by the development of the children of the nation and it is necessary to protect the children from exploitation as well.
He also deliberated on the Child Labour (Prohibition and Regulation) Act, 1986, Juvenile Justice (Care and Protection Of Children) Act, 2015, & the Prohibition Of Child Marriage Act, 2006.
The programme witnessed the presence of staff members of DLSA Bandipora, staff members & students of the said institution and Para Legal Volunteers.