JAMMU, June 20: Director Animal Husbandry Jammu Dr. Shubhra Sharma conducted an extensive tour of hilly areas of Kathua and Doda districts, besides holding field inspections including interactive sessions with farmers as well as field functionaries of the department.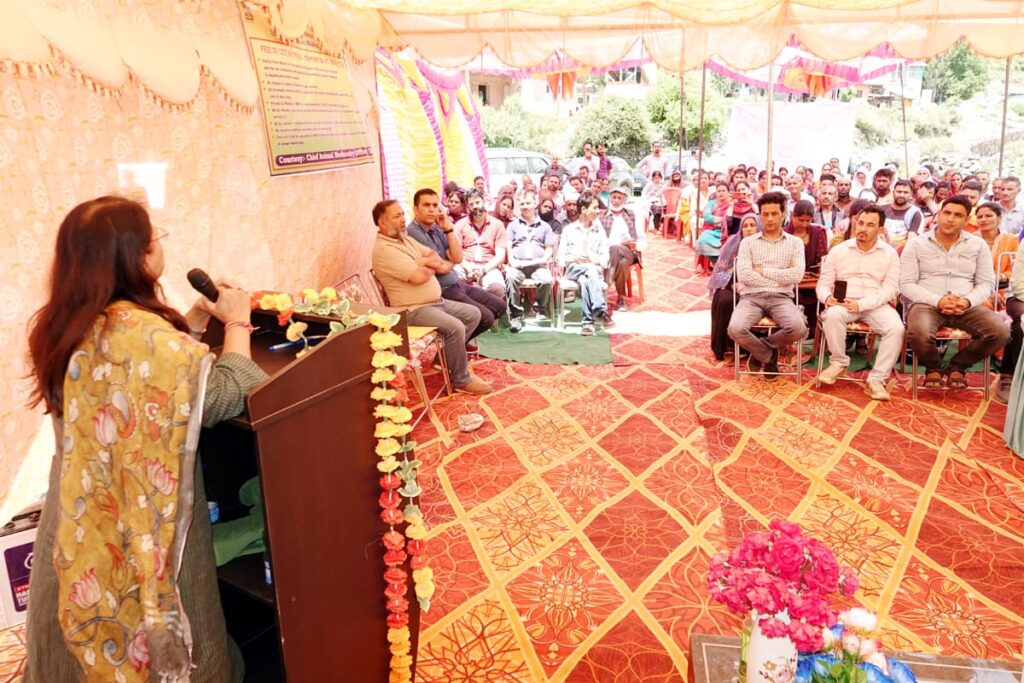 Various Schemes and Programs of the department especially entrepreneurship development and other farmer-oriented schemes under the Holistic Agriculture Development Program and other UT sector schemes as well as  central schemes were explained by holding mega awareness camps at villages Lakdi, Sheetal Nagar and Sarthal in district Kathua during the first leg of the tour.
During later half of the tour similar camps were organised in district Doda at village Beja, Bhaderwah which saw huge participation of farmers including women. Attendees were given complete information about different schemes including how to apply on the scheme portals through the convenience of their mobile phones.
 Director interacted with the farmers of two districts during the entire four days long campaign. Her insights proved invaluable in helping the farmers gain a better understanding of the various aspects of animal husbandry and dairy farming. 'Schemes of Animal Husbandry department are helping in creating rural entrepreneurship and better livelihood opportunities for unemployed youth and livestock farmers in the dairy, poultry, feed and fodder sector paving the way towards the prosperity of lakhs of associated farmers and their families', she emphasised. The impact and success of the schemes were also explained with the help of informative videos.
During the camps farmers present were also enlightened about latest IT initiatives of the department viz. 'Daksh Kisan', an online training programme system designed for farmer's skill development  and 'Kisan Sathi', an IT Dashboard of various farmer-centric schemes of the department, aimed at turning farmers into skillful entrepreneurs.
At village Beja a mega awareness camp was organised exclusively for women with the purpose of increasing their participation in rural cooperatives and Farmer Producer Organizations (FPOs). 'Women producers are socially and economically empowered through their membership in cooperatives and farmers' organizations, allowing them to produce more, earn better incomes, and raise their living standards', Director said during her address to women farmers present. On-spot registration process for forming an all women FPO was also initiated during the event.
 Further a newly constructed Veterinary Dispensary building was also inaugurated by the worthy Director at village Beja, Doda in presence of PRI members and senior officials of the department. 'The Dispensary shall cater to the needs of livestock owners by providing treatment to their ailing animals,' she said during the event.
At Doda the Director inaugurated a new office building of Poultry Development Officer, Doda. Further she reviewed the performance of the department in district Doda in a meeting of the officers to expedite the implementation of different schemes and programmes of department in a time bound manner in order to benefit the farming community in the district.
District officers of Animal Husbandry department Kathua and Doda, Extension officer, sectoral officers of the department in respective districts also accompanied the worthy Director during the tour which also saw overwhelming participation of PRI members and farmers of both districts.