UDHAMPUR, OCTOBER 04: Deputy Commissioner Udhampur, Saloni Rai, convened a follow-up meeting at the Conference Hall in the DC Office Complex, Udhampur, to review the action taken on the decisions made during the meeting chaired by the Chief Secretary on September 22, 2023.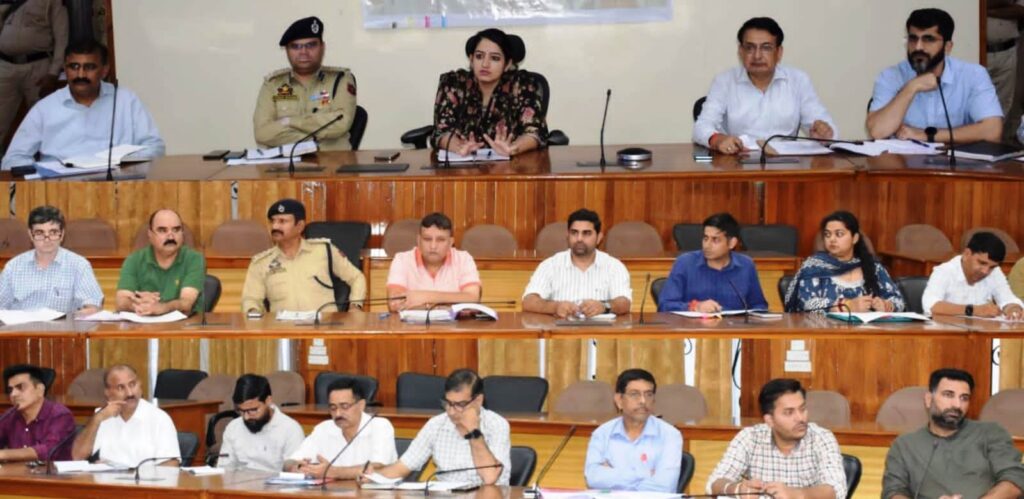 During the meeting, the Deputy Commissioner meticulously reviewed the progress made in various sectors concerning the decisions made during the Chief Secretary's meeting. She issued directives to all departmental officers, emphasizing the need for the full and faithful implementation of these decisions in their respective departments.
    The concerned departments were instructed to conduct a survey of unemployed youth in the district with the assistance of PRI members and formulate a comprehensive District Employment plan.
The Sports department was tasked with organizing sports activities, actively engaging stakeholders.
The Floriculture department was instructed to focus on enhancing the aesthetic appeal of Udhampur town.
The Jal Shakti Department was directed to expedite the provision of pending Tap Connections under the JJM Scheme.
The PWD(R&B) Department was urged to accelerate the execution of developmental projects to ensure timely completion.
A review was conducted regarding the preparation of a District Tourism Plan for the development of tourist destinations in the district.
The Education Department was directed to boost Gross Enrollment Ratios, reduce dropout rates, and ensure functional toilets in schools. CEO MC was also instructed to impose penalties on individuals involved in littering.
The Deputy Commissioner emphasized the importance of these actions in advancing the development and welfare of Udhampur district, urging all officers to execute the directives with utmost dedication and efficiency.