Stress laid on Black Spots identification, Installation of CCTV cameras on Highway; Winter road audit; Creation of Parking Bays, preventing entry of unfit vehicles into the district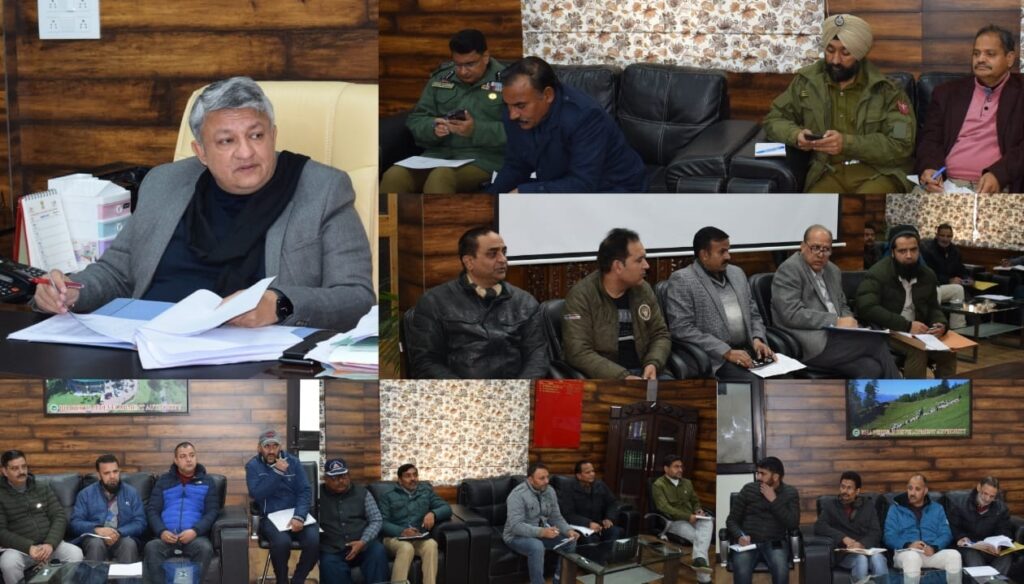 DODA, January 18: To assess the availability and requirement of infrastructure and allied issues for road safety, Deputy Commissioner Doda, Vishesh Paul Mahajan today chaired the District Road Safety Committee (DRSC) meeting here in the DC office complex Doda.
The concerned executing agencies were asked to take measures for winter audit of all the roads in the district. The executing agencies were further directed to identify remaining Black Spots, if any on the roads and to submit the report to the Committee to add to the already finalised list and to decide the corrective actions.
The agencies were also instructed to install crash barriers immediately on all the Spots where accidents have happened in the past and to create parking bays. The GREF and all other road constructing agencies were instructed to remove the encroachments along  the Roadsides falling in their area of responsibility.
A Committee headed by ADC  and supported by, ARTO, Dy SP Traffic, Concerned Tehsildar, and SHO was constituted to identify the spots for installation of CCTV cameras on the National Highway. The CCTV cameras would be provided by NHIDCL for the public safety and Traffic regulation.
The meeting also decided to introduce small reading books in the Middle Standard Schools and the above classes to teach the students about the importance of traffic rules and other moral values as a part of extracurricular activity.
The Chairman, while reviewing the working of trauma hospital, asked the member secretary to apprise the concerned authorities about the shortage of Staff and infrastructure in the Hospital and immediate requirement of Anesthesiologist in the CHC Thathri.
The CMO was instructed to notify the emergency response team of doctors and other staff along with the vehicle to be put on task immediately in case of any eventuality.
The DRSC also discussed the implementation of previous decisions, and, Road safety funds, iRAD, and other like issues.
The meeting was attended by SSP Doda, ADC Doda, SE PMGSY, ACR Doda, CMO, Principal DIET Doda, ARTO, DIO Doda, Dy SP traffic Doda, Executive Engineers of PWD & PMGSY, OC 114 RCC (GREF), DTI traffic, and representatives of other members of the DRSC.