JAMMU June 21: On the occasion of the International Yoga Day, Bharatiya Janata Party (BJP) senior leaders led party activists to practice yoga in assembly segments of the Union Territory across Jammu & Kashmir.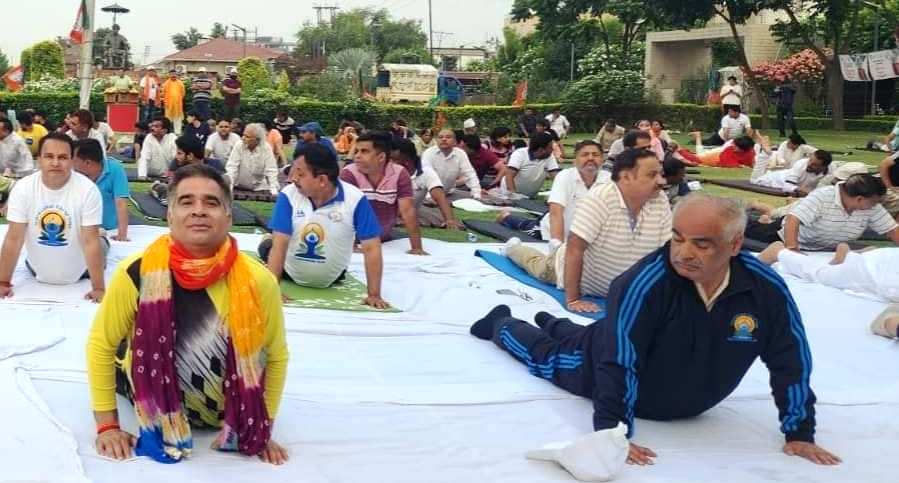 Ravinder Raina, president, Jammu and Kashmir BJP, along with General Secretary (organisation) Ashok Koul,  Vice-President Yudhvir Sethi, BJP NEM & Headquarter Incharge Priya Sethi, District President Parmod Kapahi, party Spokesperson Adv. Purnima Sharma, BJP OBC Morcha President Sunil Prajapati and others performed Yoga at Shree Maharaja Hari Singh ji Park, Near Tawi Bridge, Jammu. Hundreds of People drawn from different sections of the society, including religious and social organizations were also among the participants.
Ravinder Raina said that the International Day of Yoga was proposed by the Prime Minister of India, Narendra Modi, during his address to the United Nations General Assembly on September 27, 2014. He suggested that June 21st be designated as the International Day of Yoga as it is the longest day of summer, which holds special significance in many parts of the world. The proposal received overwhelming support from the member nations of the United Nations, leading to the adoption of a resolution on December 11, 2014.
Ashok Koul said that yoga is an ancient physical, mental and spiritual practice that originated in India and it is a combination of a range of exercises, postures (asanas), breathing techniques (pranayama) and meditation. He said that although yoga had been practised in India and few other countries, it got global acceptance in the year 2014.
Union MoS Dr. Jitendra Singh along with DDC Chairperson Bharat Bhushan Bodhi, senior officials of Police and Civil Administration performed Yoga at  Gulshan Ground, Jammu. He said that in the present era, when allopathic and other streams of treatment are costly, it is yoga, which is totally free. It only needs time to practice and gives very positive results if one adopts it in daily life style.
MP, Lok Sabha, Jugal Kishore Sharma along with General Secretary J&K BJP, Dr, Devinder Kumar Manyal, former Minister Chander Prakash Ganga performed Yoga in the premises of prestigious Health institute, the AIIMS, Samba.
Jugal, on the occasion, said that the resolution recognized the holistic benefits of Yoga for physical and mental health and emphasized its importance in promoting a balanced lifestyle.
Former Minister Sat Sharma along with Vice-President Chander Mohan Gupta, party Treasurer Parbhat Singh Jamwal, Councillor Mankotia and other party workers performed Yoga at Gurha, Bakshi Nagar, Jammu.
MP Rajya Sabha, Ghulam Ali Khatana along with other local leaders performed Yoga at Poonch.
Former MP (Rajya Sabha) Shamsher Singh Manhas along with Bharat Bhushan Sharma and others performed Yoga at Ploudka Park at Ploura.
J&K BJP General Secretary Sunil Sharma along with other senior leaders performed Yoga at Kishtwar.
J&K BJP General Secretary Adv. Vibodh Gupta along with senior leader Narain Singh and others performed Yoga at Veerbhoomi Park, Samba.
BJP Spokesperson Altaf Thakur along with Arif Raja, District President Ashok Bhat, Sheikh Bashir, Manzoor Bhat, Salinder Singh and others performed Yoga at  Jawahar Nagar Park, Srinagar.
BJP district organizing secretary Veerji Saraf, Adv. Wajahat and others performed Yoga at Verinag in Anantnag District.
BJP Secretary Dr. Farida Khan along with Javed Qureshi, District President Rashid and others performed Yoga at Children Park Kupwara.
BJP Secretary Dr. Farida Khan along with Prabhari MM War, Councillor Ashiq Mir and others performed Yoga in a Park at Baramulla.
Parliamentary constituency Incharge Yoga Diwas Rakesh Koul performed Yoga in South Kashmir.
BJP District President Zubair Ahmed and others performed Yoga at Kulgam.
Similarly, senior leaders of BJP performed Yoga in every Assembly segment of Jammu & Kashmir.

(NOTE: PRESS RELEASE PUBLISHED AS RECEIVED)