REASI March 14: Hill Thespians staged an absorbing presentation of Pratibha Agarwal's Hindi translation of Badal Sarkar's iconic Bengali play 'Pagla Ghoda', on the second day of the ongoing Festival of Plays, organized by Shri Mata Vaishno Devi University Katra at Matrika Auditorium, here today.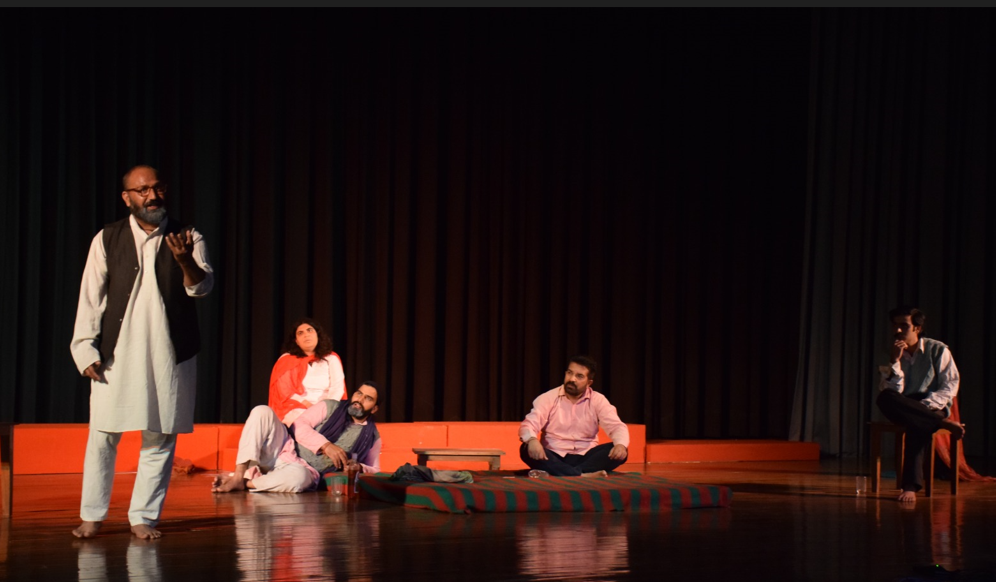 The modern Indian classic play written in 1967, deals with women question and emphasizes her subjugation in the patriarchy-entrenched Indian social system and its influences on both men and women.
The play which uses surrealistic elements opens in a cremation ground at night, where four men are waiting for the incineration of the corpse of a young woman who has committed suicide. To pass the time, they play cards and drink liquor. The spirit of the young, nameless girl on the pyre motivates men to share their stories. They narrated love stories by each man in a roundabout revealing guilt in sacrificing his love instead of taking a risk in fear of social disapproval.
Directed and designed by young Sunil Sharma, today's play was an engaging presentation by five amateur actors who were able to glide between the intense layers, subplots, and intertwining backstories of all five characters. Sunaina Kumari effortlessly slipped into multiple roles of Malti, Mili, Laxmi, and Ladki. Her perfect timing of intermittent dialogues and free-flowing on-stage movements knitted the narration. She successfully modulated her sonorous voice along with changing the colors of her dupattas rendering individuality to all four women characters.

Sunil Sharma as Satu, Javed Gill as Kartik, Neeraj Sethi as Shashi, and Shubham Rajput as Heemadari, spoke respective lines with the flow and drove the play forward. The production design was marked by well thought and executed blocking, movements, and physical behavior. The music and light design also added emotional intensity to the scenes.
Prof RK Sinha Vice Chancellor, Sh. Nagendra Singh Jamwal JKAS Registrar, Sh. Neeraj Gupta JKAS Finance Officer, deans, directors, faculty, staff and large number of students were also present on the occasion.
(NOTE: PRESS RELEASE PUBLISHED AS RECEIVED)