UDHAMPUR, March 14: Department of Agriculture and Farmer's Welfare under the stern instructions of Director Agriculture Jammu  K.K. Sharma and able guidance of Chief Agriculture Officer Udhampur  Sanjay Anand creating mass awareness regarding the self employment schemes of the line departments under Holistic Development of Agriculture and Allied Sectors, which is going to start from April 2023. Which will be the game changer for the farming community.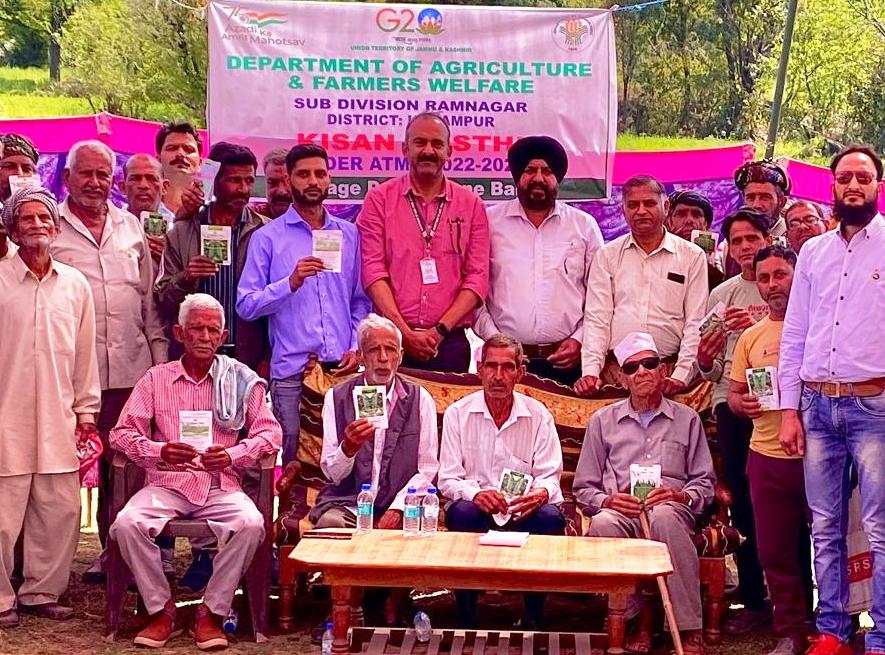 A Kissan Ghoshti under ATMA organised at village Dalsar Zone Bari Sub Division Ramnagar in the supervision of SDAO Ramnagar, Kuldeep Singh.    
While highlighting various achievements and activities of the Department, he appealed farmers to contact officials of the department for assistance.
Surinder Gupta SMS urged the farmers to come forward so that their income can be enhanced by generating a sense of business while farming so that they could make better use of resources available and more can be added under different farmer's friendly schemes.
Farmers having large land holdings also invited to come forward so that by farming in modern ways, employment can be generated to check further migration as hundreds of people have been migrated to nearby States for employment.
 They were advised to do things in community ways to strengthen their store, create employment and capacity of bargain best rate for their produce.
Jyoti Parkash SMS gave a lecture regarding profitable crops of their area. Benefits of schemes Under PMFME, AIF, NHB, PMKSY, SMAM also discussed.
As many as 100 farmers participated in the program.
 Unas Ameen I/c AEO, Surinder Gupta AEA and Rakesh Gupta were also present.