Leh, June 21: Government Degree College Khaltse in collaboration with the Administration of sub-division Khaltse celebrated 9th International Yoga Day 2023 today with the theme 'Yoga for Vasudhaiva Kutumbakam', effectively encapsulating our collective aspiration for 'One Earth, One Family, and One Future" at SDM Office Ground Khaltse.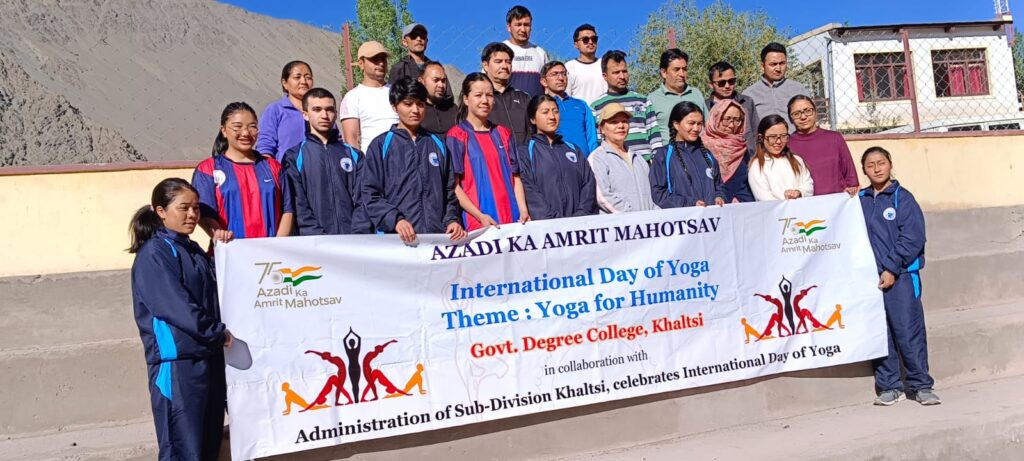 Sub Divisional Magistrate, Khaltse, Sohail Ahmad; Tehsildar Khaltse, Tanveer Ahmad; HOD's of all the departments, Staff and students of Government Degree College Khaltse attended the event.
The Yoga session started with the 'Suksham viyam' under the supervision of Yoga instructor Sonam Chosphail who is also the Director of Physical Education and Sports. Various asanas and pranayamas were performed during the event, i.e. Padmasana, Halasana Tadsana, Sarvangasana,Garudasana etc.
The Yoga Instructor/Director, Phy Edu and Sports spoke the importance of yoga in our daily life. He advised the participants to perform Yoga to stay fit and healthy.
Similarly, International Day of Yoga was observed successfully at Govt Higher Secondary School, Khaltse; Govt High School, Lingshed; Govt Middle School, Photoksar and Community Health Centre, Khaltse.