Khyber Pakhtunkhwa [Pakistan], June 19 (ANI): At least seven people were killed, while 72 others sustained injuries after heavy rain battered three districts of Bannu division beside the provincial capital on Sunday evening, reported Dawn.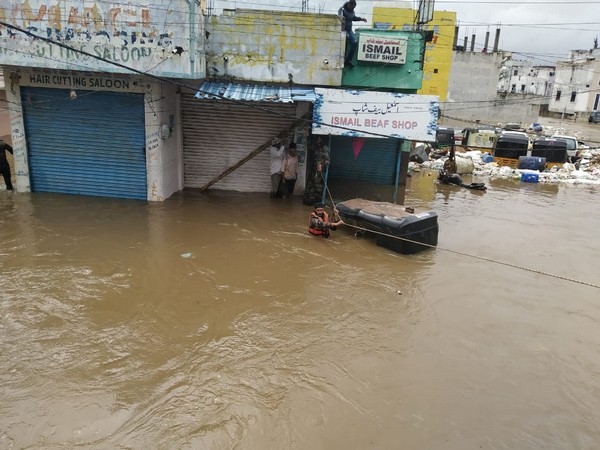 In the Bannu division, five people were killed and 67 others were injured while two people were killed and five others were injured in the provincial capital.
Pervaiz Sabatkhel, Commissioner of Bannu told Dawn that heavy rains coupled with strong winds lashed out at the districts of Bannu, Lakki Marwat and North Waziristan. According to him, the Bannu district saw three fatalities and 51 injuries, while the Lakki Marwat district saw one fatality and 16 injuries. One person died in the district of North Waziristan.
Dawn is an English-language Pakistan-based newspaper.
He said that teams were dispatched to the affected areas to estimate losses and that the district administrations had been put on alert. He claimed that all available resources were being employed to provide prompt help to the disaster-stricken population.
Strong gusts and torrential rains struck southern regions, damaging homes and flooding streets and roadways. According to locals, the Lakki Marwat and Bannu districts were hit by heavy downpours when strong winds began to blow in the late afternoon.
They said that the recent rainstorm destroyed boundary walls and residences. Roads became flooded with rainwater, which slowed down traffic. In addition to flooding urban streets and roadways, the intense downpour caused additional problems for locals.
According to a resident of Bannu, the second wave of rain and high winds pounded the rural districts that had incurred losses during the first wave. He claimed that the affected people were in desperate need of relief.
Rescue workers claimed to have transported 15 victims to hospitals after rescuing them from the Kakki, Khujari, and Haved areas of Bannu.
Two people were reported dead and five more injured in various rain-related accidents in Peshawar, according to representatives of Rescue 1122.
Spokesperson, Rescue 1122, Bilal Ahmed Faizi, said that a wall collapsed in Badabher, while a mosque shed collapsed in Nishtarabad. Similarly, strong winds tore trees out of the Governor's House.
At least 27 people died and 145 were injured after the first round of a strong windstorm, heavy rain, and hailstones hit the southern regions, including Bannu and Lakki Marwat on June 10, Dawn reported.