Abu Dhabi [UAE], May 28 (ANI): Actor Sara Ali Khan is gearing up for the release of her new film 'Zara Bachke Zara Hatke' with Vicky Kaushal.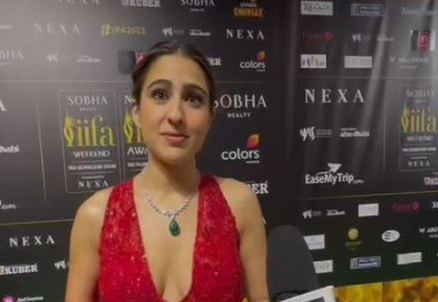 On the sidelines of IIFA 2023, Sara shared some interesting details about the film while speaking to ANI.
"I met many people during the promotion of this film. The experience of meeting people from our country reminds us that we are one country, and we have the same spirit and this is also shown in my film," she said.
Prior to IIFA, Sara made India proud with her Cannes debut.
In one of her speeches at the 76th edition of Cannes Film Festival, Sara highlighted Indian culture, cinema and art.
She said, "I am so proud to be here celebrating women both in front of and behind the camera. I hope that we continue to do things like this worldwide. I hope that my country does more and more, has a louder and more felt presence globally and internationally."
Sara made her Cannes red carpet debut in Abu Jani and Sandeep Khosla's lehenga. Isn't it a perfect way to pay tribute to Indian culture?