Peace, normalcy restored after Aug 5, 2019 in J&K: Vibodh Gupta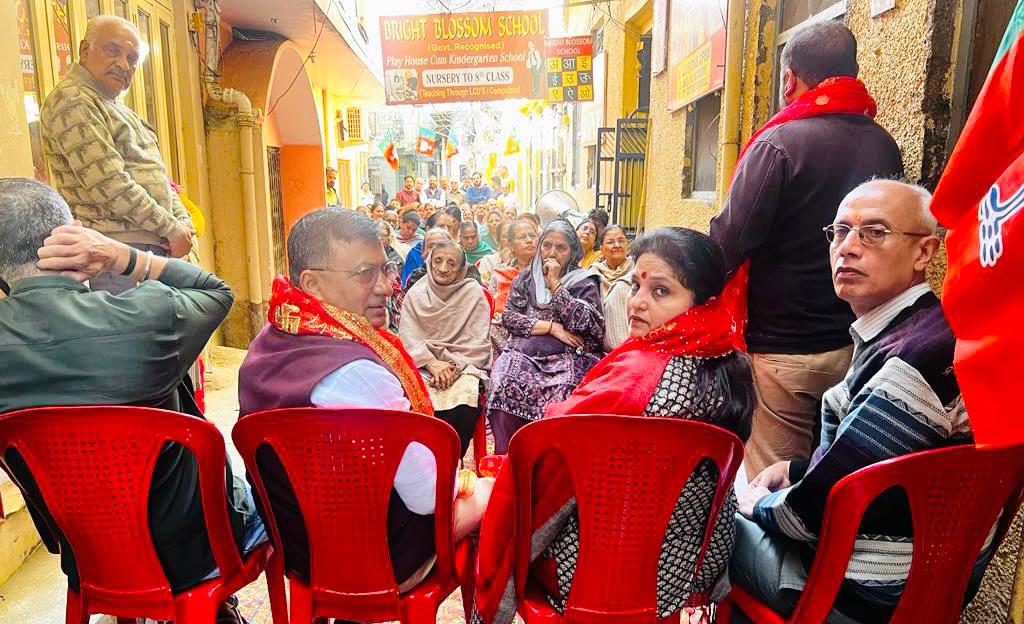 J&K, 21 Nov: Further gearing up the ongoing "Booth Jan Samvad Abhiyaan" in the UT, Jammu and Kashmir BJP general secretary and former MLC, Vibodh Gupta, alongwith Senior Leader and former Minister, Priya Sethi, addressed a largely attended programme of booth number 110 and 111 in Gali Kumhara, Ward No. 11 of Jammu East assembly Constituency. Besides local senior leaders, the beneficiaries of various welfare schemes, the senior citizens and youth of both the wards attended the programme.
Vibodh Gupta, who is also incharge of Booth Jan Samvad Abhiyaan, while speaking in the programme, said that the massive public response to the BJP's programmes and meetings itself speak that the people are convinced by the programmes and policies of Narendra Modi government. He said that after 05 August 2019, things have changed in Jammu and Kashmir. There is a positive wave in the entire length and breadth of the Union Territory, which endorses the decision of the Modi government to abrogate Article 370 and 35 A. During the past four years, the people have seen return of peace and normalcy, educational institutions and government offices are functioning normally, there is no stone pelting, no bandh calls, markets are opened, people moving fearlessly, the tourist inflow has recorded steep rise, global events like G-20 have been conducted successfully.
Vibodh Gupta said that Jammu and Kashmir faced uncertainty, insecurity deaths and destruction, the menace of terrorism due to soft and appeasement policies of the government in J&K run by the Congress, NC and PDP, which left this beautiful state underdeveloped in every field and at all levels. Had the BJP under PM Narendra Modi came to power a few years ago, the situation in J&K would have been entirely different, he said.
Vibodh Gupta further said that the party has set a target of 3000 programmes and till date 525 programmes stand successfully organized, which witnessed attendance of over 65000 people from all walks of life. He said that the overwhelming response to the BJP has also shocked the opposition parties, which have unleashed false, misinformation campaigns against BJP, which need to be defeated by educating the people through different means.
Priya Sethi, while addressing the programme, said that the Narendra Modi government has taken care of all the regions and sections of the society while formulating various welfare schemes. These welfare schemes benefitted every citizen in the country. She said that the women have got special attention in the schemes, which has empowered them socially and economically. It is the same government under Narendra Modi, which has come forward to grant political reservation to women. The granted the basic rights, which were denied to them before the abrogation of Article 370 and 35A. She asked the participants in the programme to strengthen the BJP and give one more chance to Narendra Modi to be PM for a third term.
BJYM Publicity Secretary Anil Rakhwal, spoke on various schemes to benefit the youth and make them self-dependent through schemes like Start Up. He said that the youth has a very important role in strengthening any organization and the BJP is fortunate enough to announce that it has enrolled maximum youth as its members.
Mandal President Parveen Kerni conducted the programme proceedings.
BJP District Vice President Manav Mahajan, Ward President Amit Gupta, Shakti Kendar Parmukh Trilochan Dutt, Booth President Rajesh Talla & Sukhbir Kohli, Parveen Arora, Neeru Anand, Indu Gupta, Vidya Devi,  Kartar Gupta, Anuradha Sharma, Sanjay Kohli and Meenu were also present in the programme.
Similarly, BJP, today organized 65 'Booth Jan Samvad Abhiyaan' programmes at various places like Booth no 65, 71 in East Mandal, Booth No:-108,111 in Phallian Mandal in Marh Constituency, Ramgarh, Mandals Ghagwal, Vijaypur, Rajpura and Samba in District Samba, Mandals HIranagar,  Logate and Kathua City in District Kathua.
(NOTE: PRESS RELEASE PUBLISHED AS RECEIVED)