JAGTI, March 19: Allocation of four hundred crore rupees in budget 2023-2024 for Kashmir Panits will prove to be game changer in the confidence building measures, stated Adv. Sunil Sethi.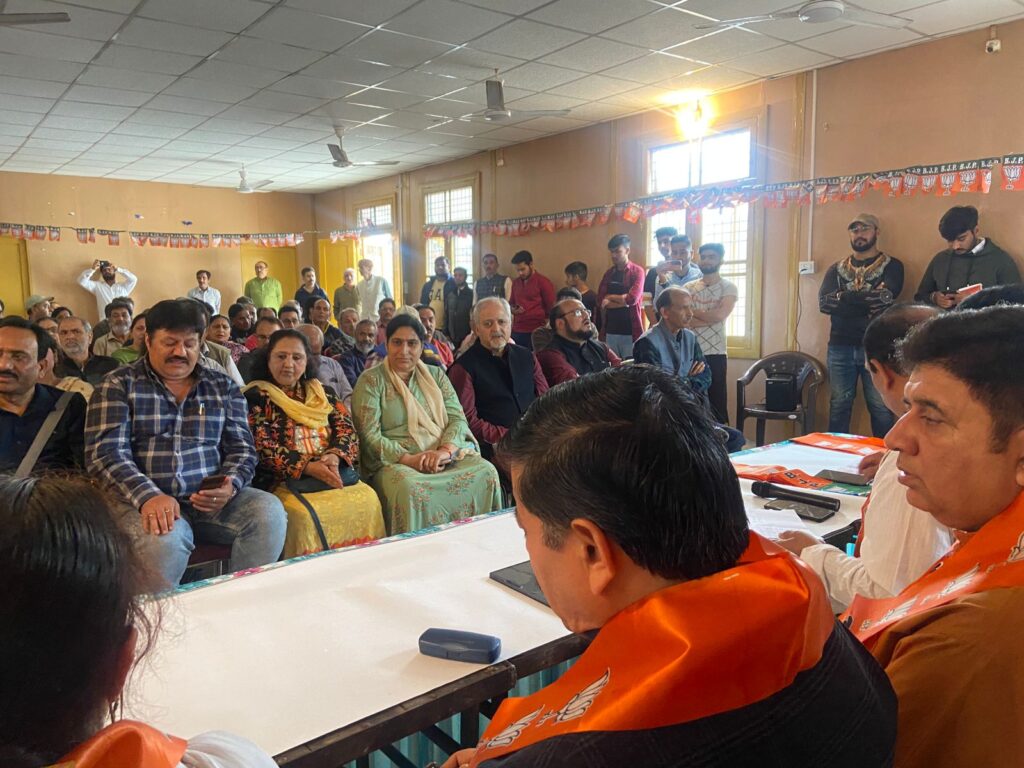 Bharatiya Janata Party Kashmir Displaced District organized a "Budget par Charcha" programme at Tika Lal Taploo Mandal at Jagti.
On this occasion Sunil Sethi, Senior Advocate & Chief Spokesperson BJP J&K UT was the chief guest, Hira Lal Bhat (Seh Prabari KDD) was the guest of honour, while Chand Jee Bhat, District President KDD Presided over the function.
Parey Lal Pandita Mandal President Tika Lal Taploo Mandal welcomed the Chief Guest and other dignitaries. Kuldeep Razdan, Mandal General Secretary, conducted the programme proceedings.
Sunil Sethi, while addressing the Participants, reminded the history of Kashmiri Hindus and described the displaced Kashmiri Hindu community bravest of brave because they and their ancestors have braved all kinds of atrocities & cruelties in Kashmir in past for hundreds of years but did not succumb to forced conversion and kept the flag of Sanatan Dharma & Rashtravad flying a top. He said that it is unfortunate that Kashmiri Pandit community had to become internally displaced persons in their own country due to appeasement policy of past governments, but now the time has changed and the nation is in the Strong hands of our Prime Minister Narendra Modi Ji.
Sethi said that allocation of Rs. 400 cr has been allocated for the construction of transit accommodations for PM Package Employees & others working in Kashmir Valley, is a welcome measure but a lot has yet been done to ameliorate miseries of the displaced community and pave a way for their respectful & dignified return to Kashmir. He said that 60000 cr Industrial investment is being done in J&K which will generate 250000 employment avenues and displaced community youth will certainly get their share out of it. He further said that allocations in Budget have been made for tourism sector and the displaced being well educated, good at oratory can take advantage of tourism schemes and become successful tourism entrepreneurs and can also take the benefit of lucrative tourist guide services.
He further said achieving 10% growth target will definitely bring huge change in living of the people and the Modi govt is committed to achieve the target. He assured the displaced community that the BJP and its Karikartas are always with displaced community and he himself being a BJP Karikarta is always available for their help.
Hira Lal Bhat (Seh Prabari KDD) thanked the Chief Guest for his informative, encouraging and soul touching address and exhorted the karikartas to take the message to every Kashmiri Hindu household that every one of us must enroll our vote in our respective assembly constituency in kashmir as a participant of holy yagna and cast their vote in favour of BJP at the time of elections as a token of sacred offerings in the Maha yagna to strengthen the hands of Narendra Modi, our beloved Prime Minister.
Other leaders who attended the program were Moti lal Bhat (District General Secretary KDD), Anil Dhar (Vice president), Sweety Koul (Vice president), Sanjay Bhat (Vice president), Rajeev Pandita (Vice President) Rakesh Sadhu (Vice President) Rohit Ganjoo (Yuva Morcha President KDD) Dolly (Mahila Morcha President), Roop Krishan Raina ( Secretary KDD), P.K.Bhat (Treasure KDD), Chaman Lal Pandita (Secretary KDD), Anjali Raina, Pooja Bhat ( both Secretaries KDD), J.L. Pandit (Spokesperson KDD) Vatsal (Gen.Secretary Yuva Morcha), K.K.KOUL (Mandal President Pt.Prem Nath Bhat Mandal), Chaman Lal, Maharaj Krishan Raina, Surinder Shama, booth Presidents, other Mandal & booth level Office bearers and large number of KDD, Mahila Morcha, Yuva Morcha Karikartas and common citizens of Jagti colony.