Mumbai (Maharashtra) [India], January 21 (ANI): Actor Shah Rukh Khan, on Saturday, revealed that he hadn't sneaked into a movie theatre for a long time to see fans' reaction but would love to go for Pathaan.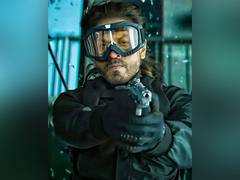 During an #AskSRK session on Twitter, a user asked the 'Dilwale' actor, "Have you ever sneak into a theatre to watch your own movie to see the reaction of the fans." To which the actor replied, "No haven't done that for a long time….also haven't had a release na….for #Pathaan maybe it's that kind of film that should be watched in an audience packed hall."

SRK will be returning back to the cinemas after a hiatus of 4 years with his upcoming action thriller film 'Pathaan' which is all set to hit the theatres on January 25, 2023.

Earlier several actors opened up about sneaking into a cinema hall to seek genuine reactions from the fans to their films
Recently, actor Aamir Khan during the promotion of his family entertainer film 'Laal Singh Chaddha' said, "I walk around in different theatres to watch the audience's genuine reaction to the film. The audience doesn't know that I am present in the hall. For the first week, I visit different cities and different halls to get the unfiltered reaction of the audience from the projection window or from the side doors."
Helmed by Siddharth Anand 'Pathaan' also stars Deepika Padukone and John Abraham in the lead roles.

Apart from this, the 'Chak De India' actor will also be seen in director Rajkumar Hirani's upcoming film 'Dunki' opposite Taapsee Pannu and in filmmaker Atlee's action thriller film 'Jawan'. (ANI)