DODA, 20 May 2023: The Special Investigation Unit (SIU) of Doda Police carried out raids at multiple locations in Gandoh area of district Doda on Saturday.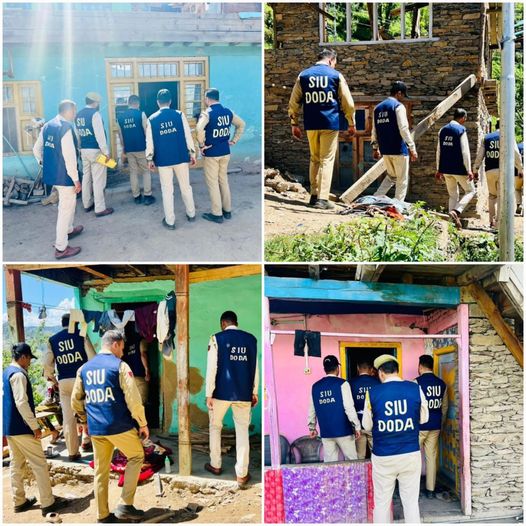 The raids were conducted in connection with the case registered at Police Station Gandoh. In the operation, SIU Doda searched houses of local terrorists presently operating from PoK including Atta Mohd @ Adil Mubassir resident of Tanta Kahara, Mohd Yasir @ Shahid resident of Kunthal Tanta, Mohd Shafi @ Nadeem Bhai resident of Trinkal tehsil Kahara, Amjid Ali @ Rashid resident of Trinkal Kahara and Majid Hussain @ Abu Zahid Saqib resident of Manoie tehsil Chilli Pingal Gandoh.
All these local militants have ex-filtrated to PoK in the early nineties and are presently operating from Pakistan and are in a desperate attempt to revive militancy in the district.


SIU (Special Investigation Unit) of Doda Police carried out raids at multiple locations in Gandoh area of Doda District. @JmuKmrPolice @ZPHQJammu @Qayoomkps @vishesh_jk pic.twitter.com/fLkl4QW8kc

— DISTRICT POLICE DODA (@dpododa) May 20, 2023