Guwahati (Assam) [India], January 23 (ANI): A day after Himanta Biswa Sarma tweeted that he had assured actor Shah Rukh Khan over the phone that the state government will ensure no untoward incidents happen during the release of his film 'Pathaan', the Assam chief minister on Monday said the actor had messaged him requesting for the phone call.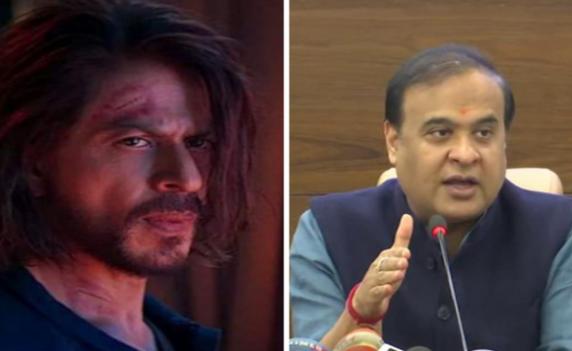 Addressing a press conference on Monday, the Assam CM said, "Shah Rukh Khan sent me a message introducing himself and saying that he wants to talk to me." Sarma said he assured the superstar that there won't be any disturbance in the state around the release of his film.
"I had many requests for phone calls, so after completing my queues, we spoke at 2 am. He had messaged me at 7.40 pm asking to speak on the phone. He said that some problems have taken place regarding his film's release. I asked the name of his film, to which he replied it was 'Pathaan'. Then, I told him that there would not be any disturbance over the film in the state," he said.

He added that he does not have much interest in movies and there are more burning issues that require his attention.

"I am not much interested in movies and only know film stars from my boyhood. I didn't know Shah Rukh Khan. I saw that our phone call was trending on social media. So many 'Pathaans' come and go, we have more burning issues to care about," the Assam CM added.

The Assam CM on Sunday said that Bollywood actor Shah Rukh Khan called him late at night and expressed concern over reports about protests by a rightwing outfit in Guwahati against the release of his film.

CM Sarma said that he assured SRK that the state government will maintain law and order and ensure no such incident takes place during the release of his film.
"Bollywood actor Shri @iamsrk called me and we talked today morning at 2 am. He expressed concern about an incident in Guwahati during the screening of his film. I assured him that it's the duty of the state govt to maintain law & order. We'll enquire and ensure no such untoward incidents," he tweeted.

On Friday, reacting to alleged protests by a rightwing outfit in Assam against the release of Shah Rukh Khan starrer 'Pathaan', Sarma said he doesn't know Shah Rukh Khan neither is he aware of the movie 'Pathaan'.

Addressing a press conference on Saturday, Sarma said, "Who is Shah Rukh Khan? Why should we care? We already have many Shah Rukh Khans?"
He said people should instead talk about the release of the Assamese film 'Dr Bezabaruah 2'.

"I have not heard about any movie by the name of 'Pathaan' and neither do I have any time for it," CM Sarma said."We should rather focus on watching the Assamese movie Dr Bezbaruah part 2, which has been directed by Sanjive Narain," he added.
Several rightwingers allegedly stormed into a cinema hall in Assam's Narengi on Friday, vandalising property and burning down posters of 'Pathaan'.

Earlier, on January 5, members of the same rightwing outfit allegedly created a ruckus at Alpha One Mall in Ahmedabad's Vastrapur, wrecking property and tearing down posters of the movie.

'Pathaan' has been mired in controversy ever since Madhya Pradesh Home Minister Narottam Mishra objected to one of its songs — 'Besharam Rang'.
Mishra had said, "The costumes in the song, at first glance, are objectionable. It is clear that the song of the film 'Pathaan' has been shot with a dirty mindset."
Helmed by Siddharth Anand, 'Pathaan' starring Shah Rukh Khan, Deepika Padukone and John Abraham, is scheduled to release in theatres on January 25.