Mumbai (Maharashtra) [India], January 23 (ANI): Raveena Tandon is a very accomplished actor and while fans love her work, many people on the internet have compared her with Twinkle Khanna for their striking resemblance.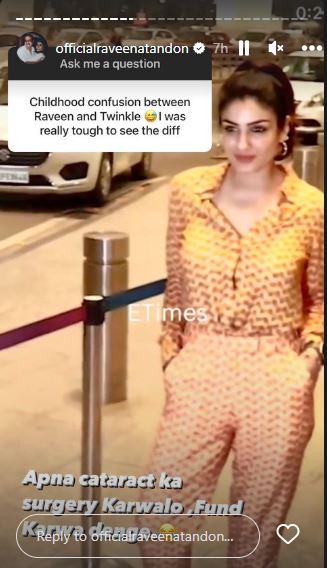 In her recent 'Ask me a question' session on Instagram, a fan wrote, "Childhood confusion between Raveena and Twinkle I was really tough to see the diff."
To this, she gave a witty reply with a photo of herself posing at an airport, "Apna cataract ka surgery Karwalo Fund Karwa denge."
Raveena is quite active on social media and share her personal and professional updates with fans.
Now following in her footsteps in acting, Raveena's 17-year-old daughter Rasha Thadani will be making her debut in the action-adventure movie directed by Abhishek Kapoor. Alongside Rasha, Ajay Devgn's nephew Aaman Devgn will be seen in the film. Rasha, in Abhishek's opinion, is the perfect choice to play the part because the character she would be portraying is quite unique.
Both lead actors have already begun preparing for the film. According to the director, they would have to go through a few training sessions, which they have already begun attending.
Coming back to Raveena's work front, she made her web debut with 'Aranyak' in 2021, in which she played a tough cop. The series received a positive response from the audience and critics as well. Raveena will rekindle her on-screen chemistry with Sanjay Dutt after a two-year gap in the upcoming romantic-comedy 'Ghudchadi'.