JAMMU, March 14 : To impart knowledge and training on the fundamentals of Machine Learning and its applications, a weeklong online Faculty Development Programme (FDP) on "Machine Learning: Concepts and Applications" commenced today at Department of Computer Science & IT, Kathua Campus, University of Jammu. More than 750 faculty members and research scholars across the nation as well as abroad registered for the said FDP.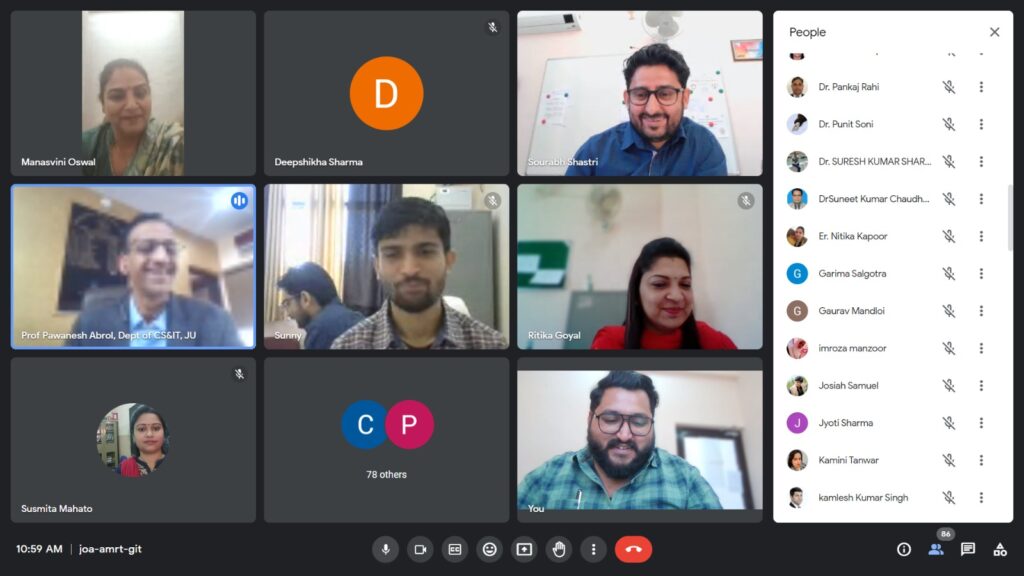 The FDP was inaugurated by Dr. Meenakshi Kilam, Rector Kathua Campus, University of Jammu and Patron of the FDP. Dr. Kilam while addressing the participants emphasized that the said Faculty Development Programme would facilitate the faculty and research scholars to have valuable deliberations on the subject and prompted them to learn as much as possible to solve problems with innovative and scientific approach in this extensive programme. She accentuated on the importance of emerging technologies in the IT industry and highlighted how the faculty and researchers can contribute to the technical evolution of IT industry. 
Professor Pawanesh Abrol, Head, Department of Computer Science & IT, University of Jammu and Keynote Speaker of the FDP discussed about the various techniques of Machine Learning viz. Decisions Trees, Bayesian Networks, Neural Networks, Support Vector Machine etc. and said that the related sessions of the programme shall help participants to learn, understand and practice the Machine Learning algorithms using python for the research purpose. He further assured full support and cooperation from the Nodal Department of Computer Science, University of Jammu for organizing these types of academic activities and other routine works.
Dr. Meenu Gupta (Chandigarh University, Punjab) and Ms. Surbhi Vijh (Amity University, Noida) were the resource persons for conducting the sessions for the first day of the FDP. Dr. Meenu Gupta delivered a talk on Basics of Python and Machine Learning whereas Ms. Surbhi deliberated on Practical Aspects of Machine Learning.
The other resource persons who shall deliver sessions in the FDP are Dr. Aditi Sharma (Parul University, Gujarat), Prof. Kiran Sree Pokkuluri (Shri Vishnu Engineering College, Andhra Pradesh), Dr. Nishant Jain (Jaypee University of Information Technology, Himachal Pradesh), Prof. Ram Bilas Pachori (IIT, Indore), Dr. Arjit Roy (IIIT, Sri City), Mr. Bishwa Ranjan (Aryan Institute of Engineering & Technology, Odisha), Prof. Parteek Bhatia (Whitman College Walla Walla, Wahington, USA), Dr. Nilgun Senguz (Burdur Mehmet Akif Ersoy University, Turkey), Dr. Swagatam Das (Indian Statistical Institute, West Bengal), Ms. Disha Sharma (Scoopin, Chandigarh) and Dr. Ajay Gadicha (Amravati University, Maharashtra).
Dr. Sourabh Shastri, Organizing Secretary of the FDP and Incharge Head, MCA Department, Kathua Campus apprised that all the sessions during weeklong FDP would be delivered by the eminent speakers in the area of Machine Learning from reputed institutions and additionally a concluding session on achieving happiness, improving soft skills, and mental well-being will follow-up. Further he briefed that the participants will need to take up an online test on final day of the FDP to receive the participation certificate.
 Mr. Pranav Ratta coordinated the whole programme whereas Dr. Sunny Sharma delivered vote of thanks. Mr. Amit Sharma, Ms. Ritika Goyal and other faculty members of the Campus were also present.