REASI, March 17: Deputy Commissioner, Babila Rakwal convened a meeting with officers and prominent citizens to discuss arrangements for Navratras and holy Ramzan.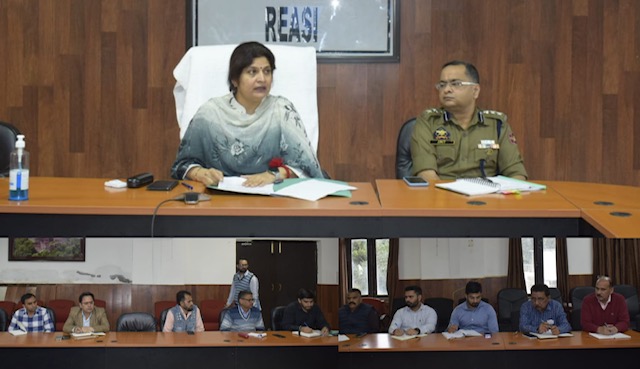 Discussions were held on various arrangements related to security, safe drinking water, power supply, first-aid, sanitation and checking of rates. Necessary directions were issued to district heads to ensure fool-proof arrangements during the festival. The DC stressed upon the Police Department to make sufficient security arrangements.
The CMO was asked to deploy a health team along with an ambulance for providing necessary health facilities. Xen PHE was asked to ensure regular supply of drinking water and Xen PDD was directed to ensure uninterrupted power supply during the festival. The DC directed the CEO MC to take necessary steps in maintaining cleanliness in the town.
A committee comprising Tehsildar, Assistant Director FCS & CA, CEO Municipality and Food Safety Officer was constituted to conduct market inspection to keep check on overcharging by shopkeepers. Shopkeepers were also asked to display the rate list of essential commodities for public information.
The Traffic department was directed to deploy an adequate number of personnel at traffic jam-prone areas to avoid congestion during the festival. The general public was advised not to park their vehicles on the road side.
The meeting was attended by Senior Superintendent of Police, Amit Gupta; Chief Medical Officer, Dr. Ravinder Manhas; Tehsildar Reasi (HQr), Suresh Singh and ARTO Rajesh Gupta besides other district officers.