Prominent Civil Society members from Kishtwar join BJP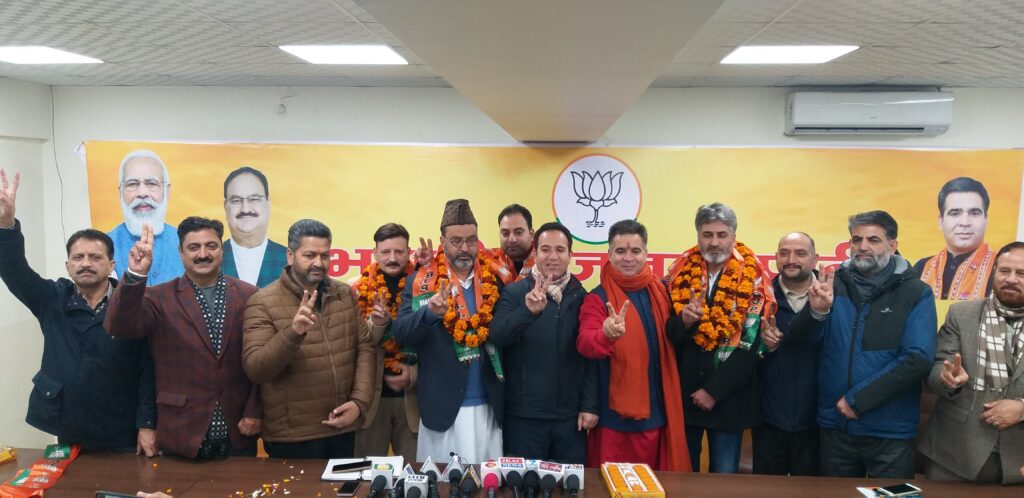 JAMMU January 25 : Prominent civil Society members from Kishtwar joined Bharatiya Janata Party (BJP) in presence of senior party leaders at J&K BJP headquarter, Trikuta Nagar, Jammu.
Abdul Rasheed Wani Retired Range Officer (Passerkoot, Inderwal), Firdous Ahmad Bhawan (Sigdi, Kishtwar), Abdul Rasheed Wani Retired Range Officer, Asif Masood Dar Businesses man (Kishtwar ), Irshaad Masoom Mir (Kishtwar) and others along with their supporters joined Bharatiya Janata Party on the occasion.
J&K BJP President Ravinder Raina formally welcomed the new entrants in a programme organized by party General Secretary Sunil Sharma.
J&K BJP Office Secretary Tilak Raj Gupta, Prabhari Pardeep Parihar, District President Chuni Lal and other party leaders were also present on the occasion.
"J&K was once hovering into the darkness of uncertainty, marred by the corrupt, illegal and anti-national activities being promoted by certain mainstream political parties. Now, with the Modi government's commitment, decisive administration and good governance model, J&K has started its march towards being the land of peace and prosperity," said Raina while welcoming the new entrants.
"Today, with its people centric development policies, the BJP has become the voice of Jammu & Kashmir residents. BJP has not only reached the masses but has become the part and parcel of life of every common citizen of India," said Raina.
Raina added that with its clear policies, BJP has been able to attract every person from the social and political arena, who yearns to serve the society and the Nation with zeal.
Sunil Sharma, while welcoming the new entrants, expressed pleasure that prominent members of civil society have joined BJP to serve the people. He said that the party believes that their resourceful services will not only benefit the people and the organization in Kishtwar, but they will be equally beneficial for J&K as a whole.
New entrants shared their pleasure on the occasion and said that today, Modi ji has become the voice of the underprivileged and those who were neglected for decades. They said that they would feel proud while serving the society under the banner of BJP who is an army of dedicated patriots led by Global leader, Prime Minister Narendra Modi.