LEH, June 19: Hill Council, Leh led by the Chairman/CEC, Tashi Gyalson officially launched the "Nyalbachan-la-Rogs" scheme (Housing for the Poor) with a symbolic function held at the Council Secretariat in Leh today. The scheme aims to provide financial assistance for the construction of houses and toilets for the underprivileged sections of society.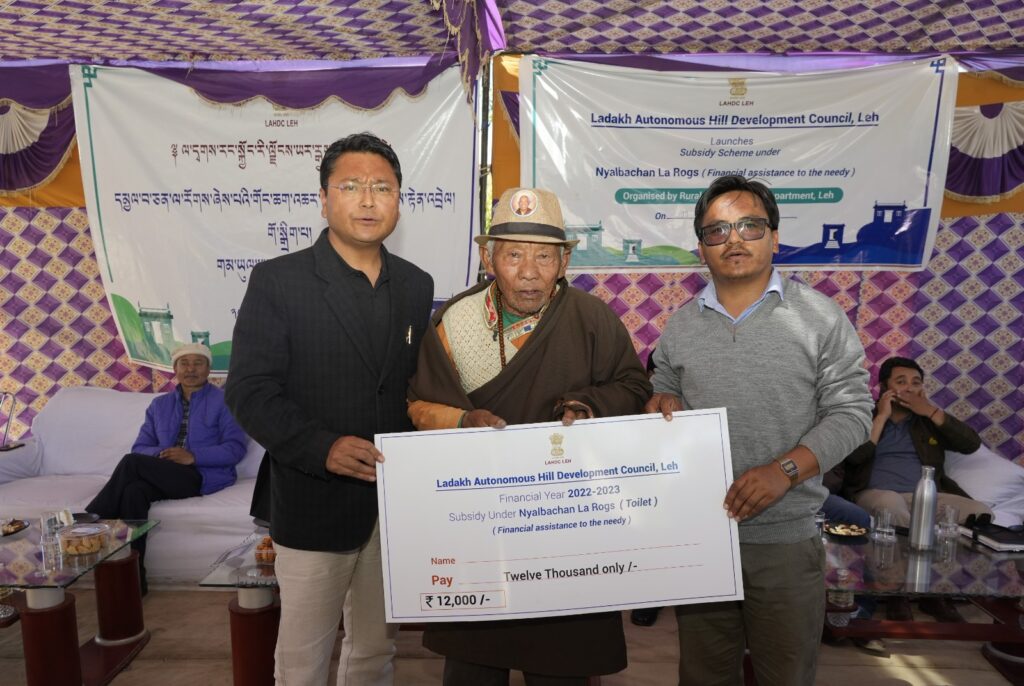 The function was presided over by CEC Tashi Gyalson and was attended by Dy Chairman, Tsering Angchuk; Executive Councillor for RDD, Tashi Namgyal Yakzee; Executive Councillor for Agriculture, Stanzin Chosphel; Executive Councillor for Minority Affairs, Ghulam Mehdi; Councillors, DC Leh Shrikant Suse, ACD/ADDC Leh, Sonam Nurboo, officiating Tibetan CRO, Sonam Choedon, and various other officials and beneficiaries from different parts of the district.
CEC Tashi Gyalson in his keynote address, congratulated all the beneficiaries and commended the efforts of the Rural Development Department, Leh, led by EC Tashi Namgyal Yakzee and ACD Leh for effectively implementing the scheme on the ground. He emphasised that "Nyalbachan-la-Rogs" is an important scheme initiated by the Hill Council, Leh after comprehensive deliberations involving all the 30 Councillors and with the assistance of MP Ladakh and DC/CEO LAHDC Leh. He added that the scheme is a successful achievement aimed at uplifting the underprivileged sections of society by providing financial assistance for the construction of houses and toilets.
CEC Gyalson further highlighted that the beneficiaries of the scheme include Tibetans residing in Tibetan Settlements across Leh and Ladakh, reflecting the vision of LAHDC Leh to develop and assist the Tibetan community equally and in parallel with the local residents of Leh Ladakh.
In their speeches, EC Tashi Yakzee and DC Leh Shrikant Suse expressed their support and appreciation for the launch of the Nyalbachan-la-Rogs scheme. They emphasised the importance of providing housing and sanitation facilities to the underprivileged sections of society and reiterated the commitment of LAHDC Leh in implementing people-friendly schemes for the welfare of the community. They also highlighted the significance of transparency and accountability in the implementation process, ensuring that the allocated funds are utilised efficiently and judiciously.
In the end, CEC Tashi Gyalson along with other dignitaries, provided the beneficiaries with financial assistance and tokens of encouragement marking the official launch of the Nyalbachan-la-Rogs scheme.