Mumbai, Jan 21 (PTI) Actor Kangana Ranaut on Saturday announced she has finished filming for her upcoming feature "Emergency".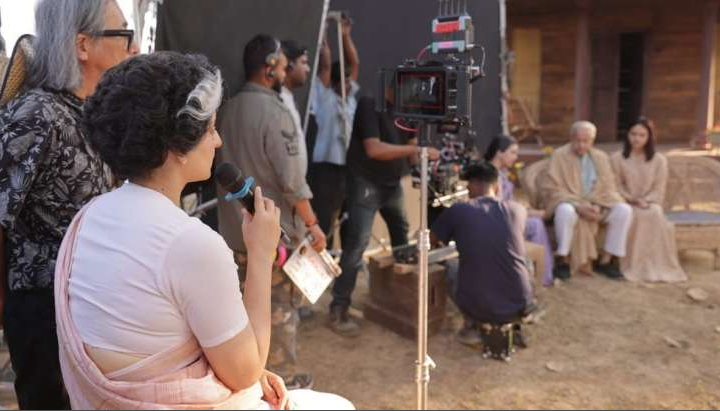 Written and directed by Ranaut, the film is billed as the story of a watershed moment in the political history of India. She also plays the role of former Prime Minister Indira Gandhi in the film.
The 35-year-old actor shared some behind the scenes pictures from the sets of the film and penned a lengthy note about her experience of working on the project.
"As I wrap Emergency as an actor today…. a tremendously glorious phase of my life comes to its full completion… It may seem I sailed through it comfortably but the truth is far from it," she wrote.
The shoot of the film commenced in July last year.
Ranaut said the movie "tested" her at many levels but she never gave up.
She said she has mortgaged all her properties, and health wise she wasn't keeping well as she was diagnosed with dengue during the first schedule, but all these hurdles didn't deter her spirits.
"I want to share with you all that if you believe just working hard for your dreams or for what you want is enough, think again because that's not true…
"You must work hard that's given even if you are worthy, you will be tested beyond your limits and you mustn't break," the actor said.
She expressed gratitude to the cast and crew of "Emergency" for their support.
"Hold on to yourself till you can … you are fortunate if life spares you but you are blessed if it doesn't…….if you break and shatter in pieces… celebrate… Because it's time for you to reborn… It's a rebirth for me and I feel alive like never before…Thanks to my tremendously talented team for making it happen for me…"
The film also features actors Anupam Kher, Satish Kaushik, Mahima Chaudhary, Milind Soman, Shreyas Talpade and Vishak Nair.
Ranaut thanked her loved ones and fans for their unending support and said she is in a "safe place" now and asked them to continue to shower their blessings and love.
The Emergency was imposed by Gandhi for a 21-month period from 1975 to 1977, when the fundamental rights of the people were put under strict curbs.
Noted writer Ritesh Shah of "Pink" fame has penned the screenplay and dialogues of the film.
A Manikarnika Films presentation, "Emergency" is produced by Renu Pitti and Ranaut.