UDHAMPUR, March 16: Amongst thundering applause, beaming and bursting peals of joy and happiness, macadamisation work on Thail to Chountara was formally kick started by Juhi Manhas pathania, Vice Chairperson, District Development Council, Udhampur.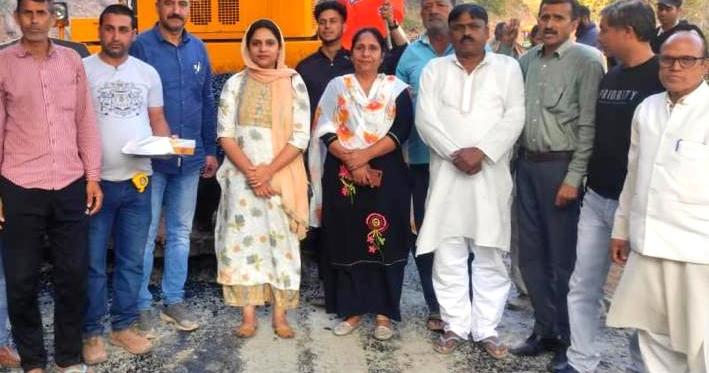 Pertinent  to mention here that this road was commissioned in the year 2016 under central road fund (CRF) but due to court, forest and law and order related complicacies the work could not be taken up and completed within the stipulated time period. Anyhow the restart of work on the said road has rekindled hopes of people for connecting Ramnagar and Majalta Tehsils through this all-popular shrine which is the epicenter of the 'aastha' of the people living in Udhampur, Samba and Kathua districts.
It also rekindles another hope of putting chances of promotion of pilgrimage tourism on a high trajectory. This will directly connect Dhar road with the popular Shrine of Shri Chountra Mata.  
It has further been deliberated that road   will be great asset and a herculean step in joining the pilgrimage shrine across the UT.
Speaking on the occasion, Vice Chairperson said that Jammu Province and particularly Udhampur District has immense potential for creating a tourism pilgrimage circuit. The popular local shrines of various areas need to be nurtured to widen the base for tourism promotion avenues, local employment.
 She further stated the this project which was languishing for a long time due to various reasons, is an ambitious project of this Government and it will provide the people of the area with more opportunities ultimately freeing them from the clutches of poverty.
Pathania was accompanied by local PRIs and officers of PWD well as the local administration.
(NOTE: PRESS RELEASE PUBLISHED AS RECEIVED)