JAMMU, 21 January, 2023: The Jammu & Kashmir Academy of Art, Culture, and Languages (JKAACL), under the guidance of Shri Bharat Singh (JKAS), Secretary (JKAACL), has successfully begun with the unprecedented series of events titled Meet-the-Author at JKAACL premises in Jammu.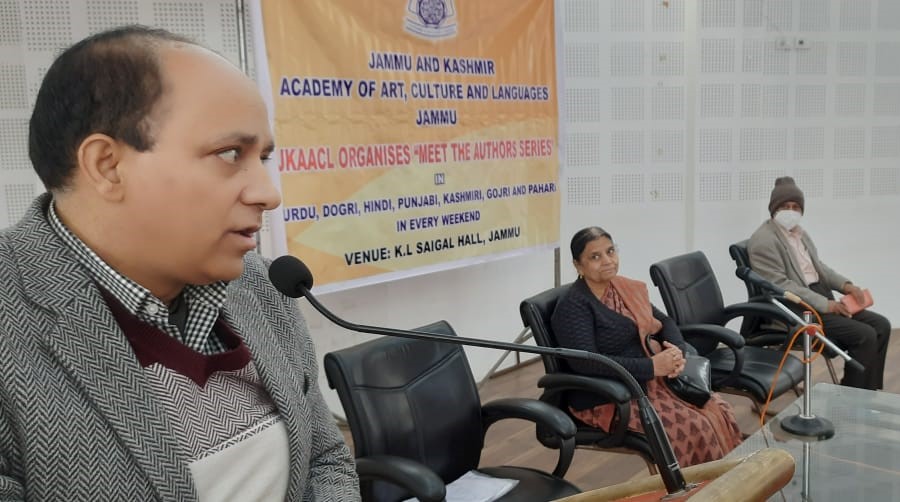 The series intends to have a direct interaction of the writer with the audience, and these interactions shall aid the exploration of various life aspects and works which acts as a creative inspiration for the author/writer. Under this initiative, every weekend, the JKAACL shall host meet the authors of seven different languages: Urdu, Hindi, Kashmiri, Dogri, Punjabi, Gojri, and Pahari.
At the outset, Shri Bharat Singh (JKAS), Secretary (JKAACL), gave a heartfelt cordial welcome to everyone. While addressing the audience, he expressed that authors are the face of society. "They (authors) represent the inner thoughts of the social fabric through their ink, and it is indeed a special skill," mentions the Secretary. He, in his address, further added that we (at JKAACL) started this series to promote the direct interaction with the author whom we have read in books; this would enable the audience to know about their life, literary intellect, and struggle they had faced.
It shall be a source of inspiration for all. It is a priceless opportunity to interact with these authors/writers and learn from their literary journeys.
The inaugural event featured Sahitya Akademi Awardee Prof. Veena Gupta, former HOD, Department of Dogri at the University of Jammu; she is a renowned author, critic, and grammarian. While describing her journey of life she recalled her childhood experiences and struggle during school and college time. While expressing his views Prof. Lalit Magotra said that Contribution of prof. Veena Gupta towards Dogri Language is immense and selfless, this cannot be ignored.
Shailender Singh prominent writer said that Dogri has got its recognition because of struggle of various persons. But lot of work is to be done to take it to further heights.
Dr Om Goswami, a noted author of the Jammu & Kashmir, read the paper on the life and works of Prof. Veena Gupta. Alongside this, several prominent writers of different languages attended the event at K.L. Saigal Hall in Jammu.
The dignitaries and writers at the event included Padamshree Dr Jitender Udhampuri, Professor Archana Kesar, Professor Sushma Sharma, Dr Sandeep Dubey, Dr Padam Dev Singh, Dr Chanchal Bhasin, Vijya Thakur, Sunita Badwal, P.L. Parihaar, Dr. Sushma Rani, Krishna Prem, Santosh Sangra, Susheel Begana, and many more. Dr Rattan Basotra conducted the proceedings of the programme. And the conclusive vote of thanks was presented by Dr Shahnawaz.
The unprecedented literary initiative of JKAACL is receiving rounds of appreciation from the art and literature community of Jammu & Kashmir.