New Delhi, Feb 7 (PTI) India on Tuesday sent to Turkiye relief materials, a mobile hospital and specialised search and rescue teams in four C-17 Globemaster military transport aircraft to support the country's rescue efforts following the massive earthquake that has killed over 5,000 people in the region.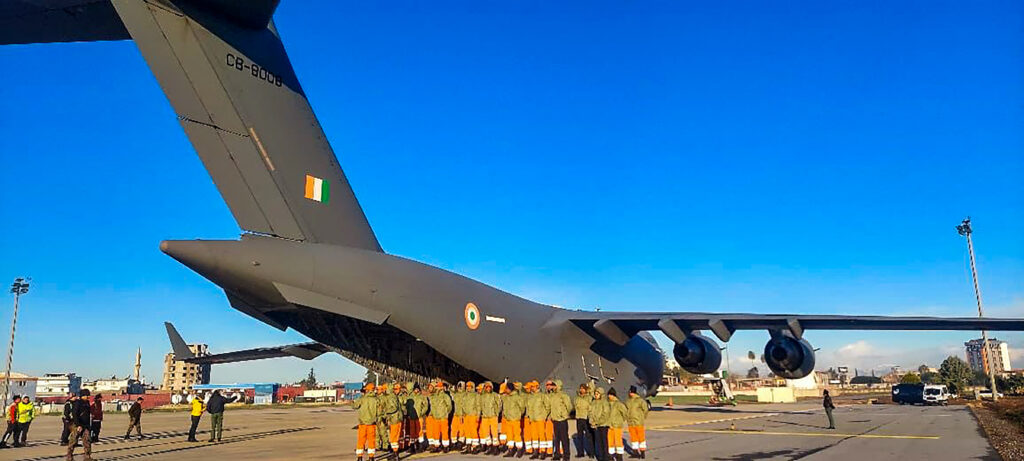 India also sent six tonnes of relief materials, including life saving medicines and medical items, in a transport aircraft of the Indian Air Force (IAF) to Syria which was also hit by the earthquake on Monday.
Several countries around the world have extended help to both countries in their rescue and recovery efforts.
"India expresses its solidarity at this challenging moment," External Affairs Minister S Jaishankar tweeted.
In another tweet, Jaishankar said he contacted his Syrian counterpart Faisal Mekdad to express solidarity and convey India's support.
Defence Minister Rajnath Singh too said India stands in solidarity with the people of Turkiye in this "difficult time."
India sent rescue teams and equipment to Turkiye as rescuers in quake-hit areas have been racing against time to save people trapped under the rubble of thousands of buildings.
The first C-17 transport aircraft of the Indian Air Force, carrying a group of search and rescue personnel, specially trained dog squads, drilling machines, relief materials and medicines landed in Adana in the quake-hit country in the morning.
A second IAF plane with similar consignments was sent to Turkiye around noon. Both have landed in that country.
"First Indian C17 flight with more than 50 @NDRFHQ Search & Rescue personnel, specially trained dog squads, drilling machines, relief material, medicines and other necessary utilities & equipment reaches Adana, T rkiye," Jaishankar said on Twitter.
Adana is one of the areas affected by the 7.8-magnitude earthquake.
"Second @IAF_MCC C-17 with self-contained @NDRFHQ teams including dog squads, search & rescue equipment, extrication tools and vehicles leaves for T rkiye. India continues to support the people of T rkiye in their hour of need," External Affairs Ministry spokesperson Arindam Bagchi tweeted.
A 99-member team from the Indian Army's Agra-based army field hospital has been dispatched. The team will set up a 30-bed field hospital.
"The team comprises medical specialists and is equipped with X-ray machines, ventilators, oxygen generation plants, cardiac monitors and associated equipment, to establish a 30-bedded medical facility," an Army official said.
The Indian Army team also comprises women personnel.
Separately, Minister of State for External Affairs V Muraleedharan visited the Syrian embassy and extended condolences to Ambassador Bassam Al-Khatib over the devastation triggered by the earthquake.
He also conveyed Prime Minister Narendra Modi's message of sympathy and commitment to providing expeditious assistance and support to Turkiye.
The Army's medical team was sent in two aircraft.
"The fourth @IAF_MCC aircraft leaves for T rkiye with the remaining component of the field hospital. This includes 54 members of the Indian Army medical team as well as medical and other equipments to establish the facility," Bagchi tweeted.
Turkish ambassador Firat Sunel appreciated India's assistance.
"This is an example of good friendship and we appreciate India's timely help. Indian experts are now in the field," he said.
The damage has been extensive because there were two massive quakes and more than 300 aftershocks, he told reporters.
"'Dost' is a common word in Turkish and Hindi… We have a Turkish proverb: 'Dost kara g nde belli olur' (a friend in need is a friend indeed). Thank you very much India," he tweeted.
The IAF's C-130 J aircraft carrying the relief materials to Syria took off late on Tuesday night.
"An @IAF_MCC flight carrying 6 tons of Emergency Relief Assistance has taken off for Syria. Consignment consists of life saving medicines and emergency medical items.
Indian stands in solidarity with those most affected by this tragedy," Jaishankar tweeted.
India on Monday decided to immediately despatch search and rescue teams of the National Disaster Response Force, medical teams and relief material to Turkiye following Prime Minister Narendra Modi's instructions to offer all possible assistance to the country.
Several countries, including the US and the UK, are sending relief materials and search and rescue specialists to Turkiye to help search for survivors of the quake.
The massive earthquake and multiple strong aftershocks have flattened thousands of buildings in Turkiye and neighbouring Syria.