ROHTAK, JANUARY 22: Indian Institute of Management (IIM), Rohtak, today honoured Advisor to Lieutenant Governor, Rajeev Rai Bhatnagar, who is the alumni of IIM Ahmedabad, with IIM Alumni Award 2023 for his exemplary contribution in Public Service and Administration.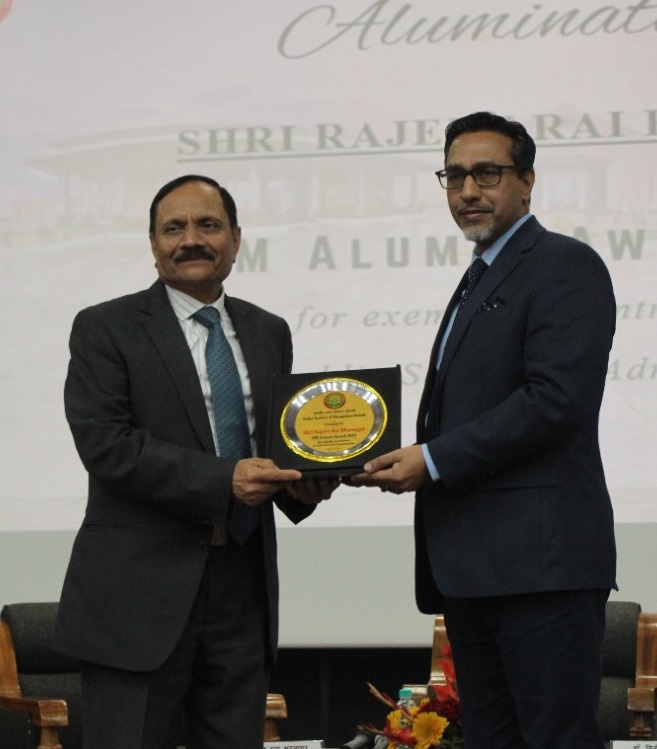 Advisor Bhatnagar received this prestigious award during his participation in 9th edition of Annual Alumni Meet, 2023, hosted by Indian Institute of Management (IIM), Rohtak.
The Alumini meet which was held after a gap of two years in physical mode due to COVID, was attended by alumni of all the batches that graduated from IIM Rohtak in the last 10 years.
Addressing the Alumni Meet, Advisor Bhatnagar, who is also the alumni of IIM Ahmedabad, said that a good learning is never wasted and one should always be able to learn and relearn based on the requirement of the job and organisation. "If you have the right potential, power, and knowledge, you can always contribute to society in the right manner", said Advisor Bhatnagar.
Advisor also advised the students and alumni to work with persistence and conviction as iis not only about the learnings from the faculty but peer learning is also equally important. "You must always have a positive outlook for learning, look at a problem with the view to find a solution to it", remarked Advisor.
Advisor in his address also presented the developmental profile and growth story of J&K and the vast improvement in the security post revocation of article 370.
Director IIM Rohtak, Professor Dheeraj Sharma, set the tone of the event by addressing the alumni community.
Speaking about the importance of culture in the IIM system, Professor Sharma said, "A sense of ownership is what builds the culture of an institute and therefore apart from creating responsible managers and wonderful leaders, the IIM system ensures that its alumni internalize this value system", he added.
The Director also said that the culture becomes a way of life for an IIM alumnus as they become the flag bearers of the system in the corporate world and contribute continuously to the development of the nation.
Various Alumni who spoke on the occasion appreciated efforts of institutions leadership in building the largest and breakthrough management institution in the country.
During the alumni meet, the institute also gave away IIM Alumni Awards 2023 to different individuals for their contribution in the field of public service and social welfare.