Sports is a powerful medium to ensure physical-emotional health, enhances learning efficiency & helps in character building: LG Sinha
Sports nurtures both mind & body and enables students to become well-rounded across disciplines. NEP has given us an opportunity to promote Sports through multidisciplinary system and end fragmentation in education system: LG
Under the guidance of Hon'ble PM Shri Narendra Modi ji, the National Education Policy is creating a progressive ecosystem for the students to translate their dreams into reality: LG Sinha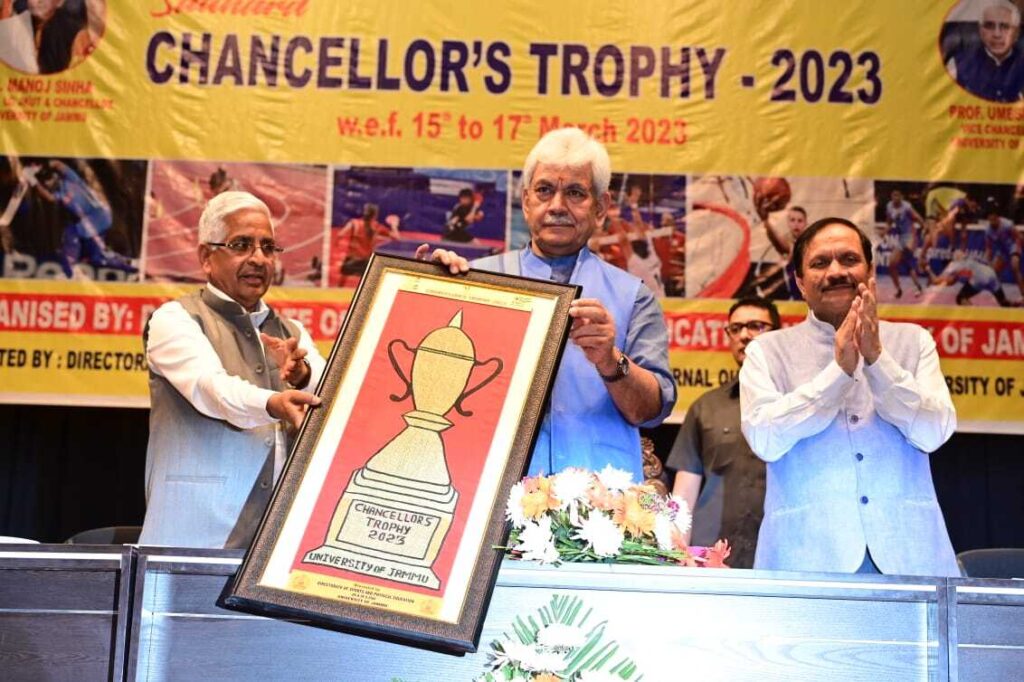 More than 550 sportspersons from various universities are participating in the three-day mega sports event 'Sauhard'
JAMMU, March 15: Lieutenant Governor Shri Manoj Sinha inaugurated Chancellor's trophy at University of Jammu today.More than 550 sportspersons from various universities are participating in the three-day mega sports event 'Sauhard'.
The Lt Governor called upon the Higher Education institutions to promote sports as a core subject. Sports is a powerful medium to ensure physical-emotional health, enhances learning efficiency & helps in character building, he added.
"Sports nurtures both mind & body and enables students to become well-rounded across disciplines. National Education Policy has given us an opportunity to promote Sports through multidisciplinary system and end fragmentation in education system," said the Lt Governor.
Citing various reports and studies on the impact of sports on the mind of an individual, the Lt Governor said the researchers considered Sports as a miracle for the brain. It is important that sports should be a part of our curriculum, he noted.
Highlighting the initiatives taken for holistic development of youth, the Lt Governor said, under the guidance of Hon'ble Prime Minister Shri Narendra Modi ji, the National Education Policy is creating a progressive ecosystem for the students to translate their dreams into reality.
 "Hon'ble Prime Minister's vision for FIT India, Khelo India, National Education Policy, start-up opportunities, is building a strong foundation for India's future," said the Lt Governor.
The Lt Governor also pointed out that Sports was deeply rooted in the ancient education system.
 Our Gurukuls had emphasized using Sports as a tool to enable socio-economic change, he said.  
 The Lt Governor encouraged the youth to follow in the footsteps of prominent personalities who achieved excellence in both academics and sports.
"Nothing is Impossible. You can achieve excellence in any field with your hard-work, dedication, right guidance and can build your future with your individuality and independent thinking," said the Lt Governor.
Sh Rajeev Rai Bhatnagar, Advisor to Lt Governor reiterated the commitment of the administration to providing all necessary facilities to sportspersons and making J&K a sporting powerhouse.
Prof Umesh Rai, Vice-Chancellor, Jammu University said that the University of Jammu, being one of the partners for hosting the Pre-Summit of G-20 Group of Countries, has taken an initiative to organise an inter-University Sports Competition for the Chancellor's Trophy-2023 to promote brotherhood among students and scholars of the various Universities and to build trust and social harmony.
From the ensuing academic session, students can pursue two academic programmes simultaneously as per the UGC guidelines, he added.
Chancellor's Trophyis being held under the initiative "My Youth My Pride" to promote the concept of NEP 2020 which envisages sports as part of the curriculum and lays emphasis on sports-integrated learning and as a skill for a quality life, it was informed.
Participants will compete in various sports disciplines like Basketball, Cricket, Kabaddi, Volleyball and Table Tennis.
Vice Chancellors of various Universities; HoDs, faculty members and students in large numbers were present on the occasion.