MAHANPUR, Jan 12; NSS Unit of GDC Mahanpur celebrated Swami Vivekananda's birth anniversary as well as Lohri on 12th of January, 2023. The contribution of revered Swami Vivekananda ji in replacing India's culture, Sanatan Dharma and spirituality on the global patal is incomparable.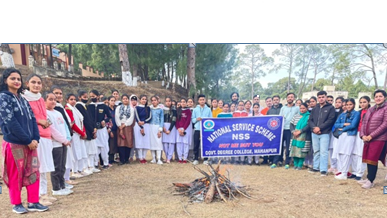 His great contemplation and Vedanta philosophy is an inspiration for human society. On the occasion of Swami Vivekananda's birth Anniversary, the faculty as well as NSS volunteers paid floral tributes to Swami Vivekananda.
Moreover, NSS volunteers were also shown documentary on the biography and ideology of Swami Vivekananda. Lohri celebrations also took place in the College Campus. All the faculty members as well as the students of the College celebrated Lohri.
The festival was celebrated by lighting bonfire, dancing and singing. The entire program was organized by NSS PO Prof. Meena Devi as well as NSS Committee Members under the supervision of Dr. Sangeeta Sudan, Principal of the College.  
The faculty members who were present in the program were Prof. Arvind Kumar, Sh. Saurabh Dutta, Prof. Rupalee Jasrotia, Dr. Neetika Verma, Dr. Ajay Manhas, Ms. Naresh and Ms. Rafia.