Kavinder Gupta, RS Pathania, Anuradha Charak listen to the public grievances at BJP headquarter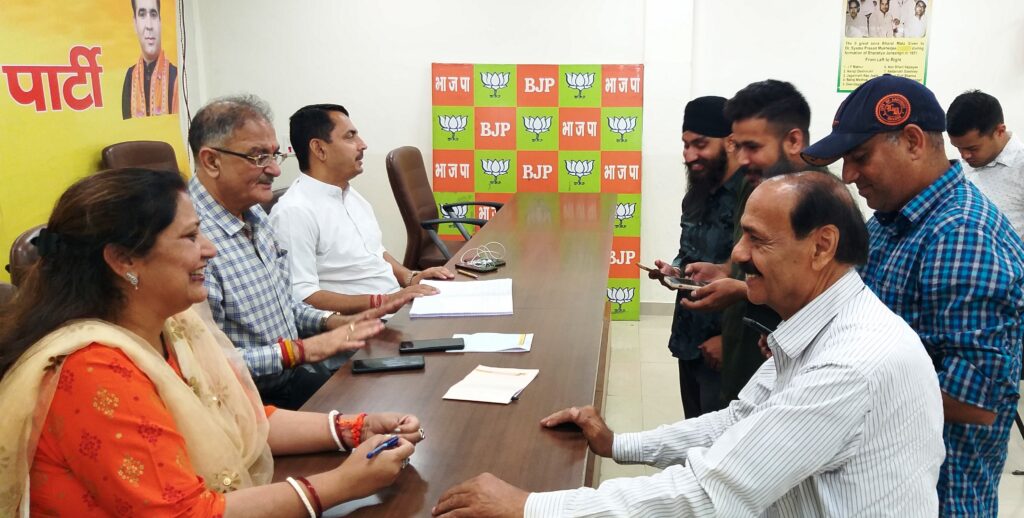 JAMMU, May 23: Former Deputy Chief Minister Kavinder Gupta and former MLA & J&K BJP Spokesperson Ranbir Singh Pathania accompanied by J&K BJP Vice-President Anuradha Charak, listened to the grievances of a large number of people from different areas of Jammu and Kashmir at BJP headquarter, Trikuta Nagar, Jammu.
Kavinder Gupta while addressing grievance redressal proceedings at BJP hqrs, Trikuta Nagar Jammu, remarked that G20 marks a watershed movement in the history of J&K. It is really significant that the international community is sitting in Kashmir to decide and deliberate on promotion of global tourism that too on Kashmiri soil. More so, the successful completion of this event marks another milestone in that situation is almost well. During the past few years, Kashmir suffered bloodshed, killings and hatred. Now Kashmir has bounced back to normal.  J&K is all set to take a head on flight, which shall ultimately propel it into a realm of development, peace and opportunities.
Ranbir Singh Pathania took a potshot at the people who are out and out to denigrate and debase the country and national interests too.
There are people who have not registered themselves in the G20 meet at Kashmir thereby declaring a sort of boycott but in J&K also this boycott gang finds a camaraderie and common string with some political party spewing venom and fire on the government and trying to engage people on total non issues. Fact remains that they have been politically and publicly rejected and are now trying to vent their frustration in this novel way.
Amongst other general issues pertaining to  compassionate appointments, verifications, ex-gratia to accident victims, relief to militancy victims, proper convening of Gram Sabhas , drinking water and electricity issues, augmentation of stations, building permissions, staff shortage, proper voltage electricity,  were projected by a number of  deputations who  called on in the BJP office with references and telephone calls to concerned officials.
Anuradha Charak also remained present during the grievance redressal proceedings.
(NOTE: PRESS RELEASE PUBLISHED AS RECEIVED)