Shillong (Meghalaya) [India], March 14 (ANI): The State of Meghalaya celebrated the first-ever International Film Festival in the capital city of Shillong on Tuesday.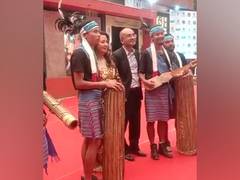 Five-day long, Meghalaya International Film Festival, an initiative of the Meghalaya Filmmakers' Association (MeFilma) kicked off today in State Central Library.
The festival will screen over 65 films and documentaries spread over five days. The closing ceremony will take place in the evening on March 18 at the same venue.
Minister of Tourism and Art & Culture, Paul Lyngdoh inaugurated the 1st Meghalaya International Film Festival. Actor Adil Hussain also graced the occasion as Special Guest.
Adil Hussain said, "Every district can have a vibrant film club. There could be some North East film institutes set up here.
He gave a message to Meghalaya youth, "Watch good films, learn acting, directing, photography and all of that."
Talking to ANI, actress Regina lamo who was present at the festival, said, "I am here celebrating the first Meghalaya Film Festival here in Shillong. I feel proud that everyone outside the states also are coming here to represent Meghalaya to their states. One more thing, I want other states to give opportunities to locale talents."
The Festival is aimed at creating a film culture in the State, especially among its youth. Through this, the state is trying to share the tales through the medium of films and documentaries by filmmakers.
There will be four venues where parallel screenings will take place. Megh IFF is expected to attract more than 5,000 viewers from across the country, including guest countries. (ANI)