Kolkata, Jan 25 (PTI) Noted poet-lyricist Javed Akhtar feels love for poetry should not be forced upon children by their parents.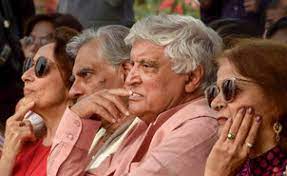 They should rather enjoy poems and attend 'kavi sammelans' (poet meets) with their children to instil in them the passion for rhymed words, Akhtar, who was speaking at a session during the Tata Steel Kolkata Literary Meet here, said.
Responding to a query from a young mother about how to infuse love for poetry among children, the 78-year-old Padma Bhushan awardee said on Tuesday, "You don't have to tell them, they may not listen. They will do what you do. If you love poetry deeply, if you attend kavi sammelans' and mushairas' your children will automatically feel interested."
Asked if a successor should be groomed to carry forward his legacy as a composer of Urdu lyrics, Akhtar said, "There are a lot of young people on both sides of the border – in India and Pakistan, young boys and girls, some of them even around 18 years of age, who have shown spark and promise. I regularly view their recitals on YouTube, which inspires me. They don't need me to inspire them."
The eminent lyricist and script writer of several Hindi films told an aspiring Urdu poet that he should keep reading poems to have a better concept of the syntax, rhythm and weaving of phrases.
" Start with contemporary poets whose languages and expressions you can identify with," he added.
In response to another question on the influence of poetry in his marital life with actor Shabana Azmi, he quipped "the answer is both yes or no".
"The fact is since you are influenced by the same sources – Shabana's father renowned Urdu poet Kaifi Azmi and Akhtar's father acclaimed Urdu poet Jan Nisar Akhtar – you develop the same values, and morality when our basic values are common, everything else gets absorbed," he added.