SAMBA, March 15: Under the insightful directions of Justice Tashi Rabstan, Executive Chairman, J&K Legal Services Authority and also under the radiant guidance and overall supervision of Chairman, District Legal Services Authority Samba (also Pr. District & Sessions Judge, Samba), District Legal Services Authority Samba today observed World Consumer Rights Day with a theme (2023) "Empowering Consumers Through Clean Energy Transitions" at Village Channi Manhasa Tehsil- Ramgarh District Samba.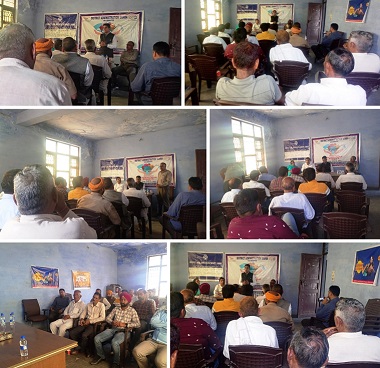 Hitesh Sharma, Panel Advocate, District Legal Services Authority Samba and Rakesh Kumar, Tehsil Supply Officer, Department of Food Civil Supplies & Consumer Affairs, Samba acted as a resource persons.
Panel advocate, Hitesh Sharma threw light on the provisions of the Protection of Consumer Rights Act ,1986 whereas Rakesh Kumar spoke on the 2023 theme of the World Consumer Rights Day and also on general rights of the Consumers and the issues surrounding Consumer rights and needs in the program.
The objective of organizing the program was to raise awareness of Consumer Rights, Consumer Protection and Empowerment from unfair treatment or market exploitation that could compromise their rights.
The program was attended by Baldev Raj, Sarpanch, Para Legal Volunteers of District Legal Services Authority Samba, locals besides officials of FCS&CA.