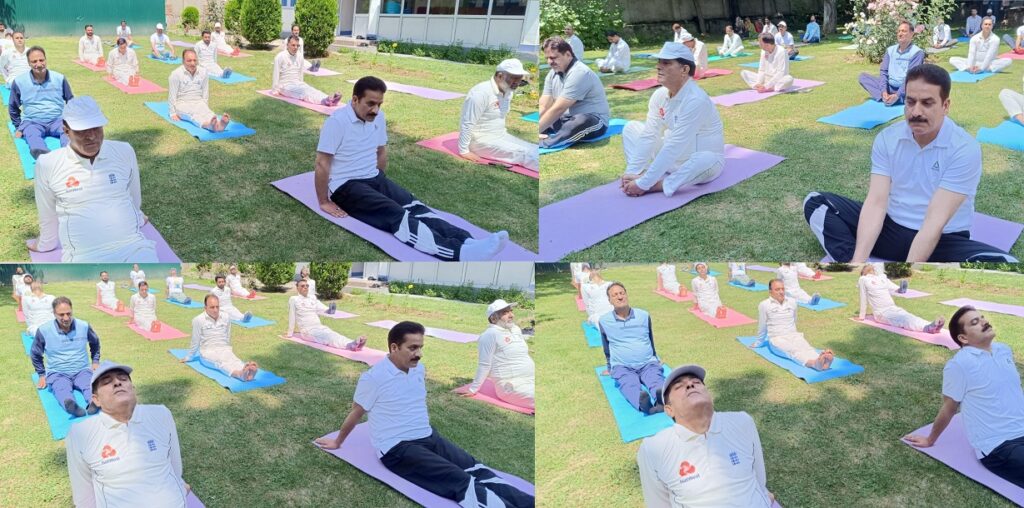 KULGAM, JUNE 21: The District Legal Services Authority (DLSA) Kulgam today celebrated the International Yoga Day with great enthusiasm. 
Chairman of DLSA Kulgam, Mohammad Ashraf Bhat, spearheaded the event, which was also joined by  Judicial Officers & staff members.
The event was also attended by Nodal Officer Department of Ayush Kulgam, Abdul Rehman. Officials from from Department of Youth services and Sports also participated in the said event. 
The yoga sessions were conducted by experienced trainer Arif Ayub Nengro, from the Department of Youth Services and Sports. 
While throwing light on the observance of the day, Chairman DLSA stressed that its aim is to promote the holistic well-being of individuals, fostering physical fitness and mental serenity within the legal community and cultivating a harmonious and balanced lifestyle.
He emphasized the importance of yoga in maintaining physical and emotional well-being amidst the demands of the legal profession. 
The event witnessed an enthusiastic participation from Judicial Officers, participants and staff members together. 
Finally, the event concluded with this message from Chairman DLSA Kulgam that Yoga is the journey that takes you through yourself, to your true self, to your soul.