JAMMU , March 16- The Department of Philosophy, University of Jammu has organized a lecture on the topic "The Self in Descartes, Hume and Kant: A Conceptual and Analytical Journey". Prof Bijoy H. Boruah, Visiting Professor, Centre for Humanities and Social Sciences, IIT Jammu was invited to deliver the talk.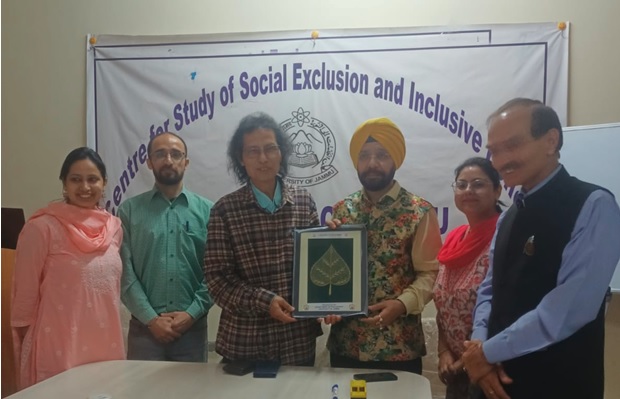 In the talk he explored the three philosophical views on the self that are famously proposed by Rene Descartes, David Hume and Immanuel Kant by showcasing the chronology as well as their conceptual progress. He intentionally chose the above-mentioned thinkers who belonged to Rationalism, Empiricism and Critical Philosophy for the exploration of the notion of self which was guided by their distinctive individual assertions.
Rene Descartes, a 17th-century thinker admitted the self is nothing but a thinking substance which can be known through reason. He says that 'I am, however, a real thing, and really existent…a thinking thing'. David Hume on the other hand, doubted the existence of the self and claimed it to be a non-existent entity. For him, whenever we try to know about the self one stumble on this and that perception.
Immanual Kant tried to reconcile the above two positions and maintained that 'it is very evident thatI cannot know as an object that which I must presuppose to know any object'. Prof Boruah concluded by saying that the idea is still a topic of debate and we are still trying to find an absolute answer as to what self could be defined as.
The lecture was enriching and thought provoking. The session ended after a long discussion the students had with Prof Boruah.The convener of the talk Prof. Jasbir Singh, Head, Department of Philosophy welcomed the speaker and presented him with a token of respect. The faculty members Dr Panu Sharma, Ms. Ruby Bharti and Dr. Sushain Raina were the coordinators of the talk. Dr. Panu Sharmaconveyed the vote of thanks.