BJP has betrayed all sections, crushed poor – Bhalla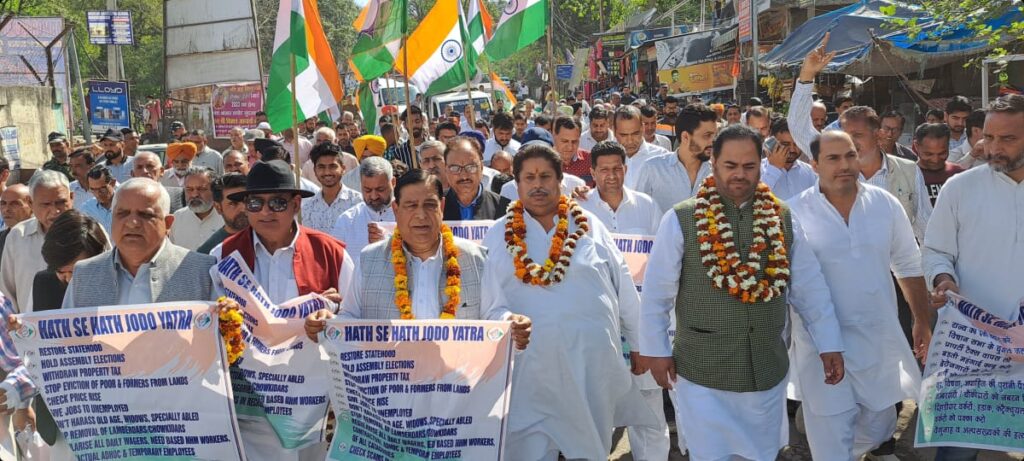 Sunderbani, March 14-  JKPCC Chief Shri Vikar Rasool Wani has said that Congress will emerge number one party in assembly elections in Jammu &Ksshmir and will form the government with like minded parties. 
Addressing a large gathering after HATH SE HATH YATRA from main Bazar of Sunderbani town today morning along with Working President Raman Bhalla, Chief Spokesperson JKPCC Ravinder Sharma, Ex MP T S Bajwa, Ex MLC Ved Mahajan, ST Dept Chairman Ch Hussain Ali Wafa, Refugee Cell chairman Amrit Bali & others, Shri Vikar Rasool said that people are fed up with the authoritarian and anti people policies of BJP in entire Jammu region too while Congress is the only choice of people in most parts of J &K because of its secular and pro people policies. 
The people seen the false & fake slogans and betrayals of BJP with each section especially Youth, farmers, traders and other sections and want to teach BJP a lesson to it in elections that is the reason of delay in assembly elections as BJP is seeing writing on walls. 
BJP downgraded historical state, removed all protections to land and jobs for locals, could not fulfill promises of lot of jobs, committed scams in recruitments, resorted to bulldozing of houses, shops and evictions of poor from lands, imposed huge taxes including property tax, gave large scale unemployment and unprecedented price rise, did not regularize daily wagers, adhoc, temp employees, and other dictatorial orders, for which people are against BJP. & want change. 
Shri Raman Bhalla lashed out the BJP for crushing the voice of common people and giving blow  after blow to the poor & youth. Each and every section is feeling the heat of BJP government wrong and dictatorial policies in Jammu and Kashmir and want to teach them a lesson. 
The educated youth are frustrated ,the employees are harassed and all sections are fed up with BJP policies. The unprecedented price rise, unemployment and anti people policies of government have crushed poor people of J &K.
BJP president neglected totally the people of his constituency  and made fake promises while appreciated the commitment of Congress workers and former MLC Ravinder Sharma for always fighting for the people of the area. He said BJP  has lost ground and trust of people of all sections and would loose badly in elections, urging people to give chance to Congress in elections. 
T S Bajwa Ex MP explained the failures and falsehood of BJP and said that Congress alone can do justice to all parts &each sections. 
Shri Ravinder Sharma welcomed the leaders and thanked the people for massive response to the Yatra and raise the issues of all suffering sections of  society. 
 Bhavishya Sudan, Block President S N C Sharma, Ajit Singh, Tirth Ram, Yog Raj & several prominent leaders spoke and participated in the Yatra. 
Earlier a large number of people marched through main bazars carrying banners and raising slogans of different demands.