Chairs Block Diwas at Block Waterhail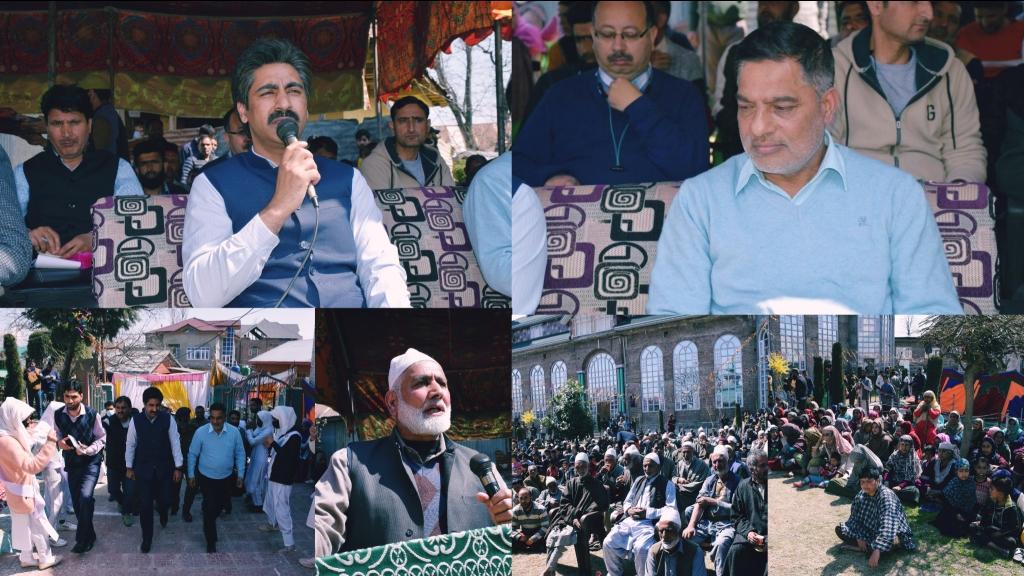 BUDGAM, MARCH 15: The Deputy Commissioner (DC) Budgam, S F Hamid today chaired the Block Diwas programme at Panchayat Halqa Waterhail in Block Waterhail.
Chairman DDC Budgam, Nazir Ahmad Khan, DDC Member Parneva were also present on the occasion.
Local PRIs, respected elders and local youth delegations from villages Waterhail, Muqam, Hardwail, Brail, Jawalapora and other adjacent villages raised their demands with the DC.
The DC gave them patient hearing and assured that all their genuine demands shall be addressed on priority.
Speaking on the occasion, the DC said that Jan Baghidari is the guiding principle of District Administration to ensure overall development of the people.
While taking assessment of road development, drainage network and facilities related to drinking water, health, Sheep and Animal husbandry, Agriculture and other allied sectors, the DC emphasized on speedy work completion of all ongoing developmental works.
Stressing on the robust development of the area, the DC directed concerned to expedite work besides ensuring early execution of developmental works.
In order to ensure better public service delivery, the DC said that a joint awareness camp shall be conducted at Waterhail village on March- 18, for on spot redressal of public issues and awareness generation about different schemes among locals including self-employment schemes among the local unemployed youth.
He urged local unemployed youth to register under different self- employment schemes to open their own business ventures.
The DC said that work on different schemes under JJM is going on full swing across the district and all households shall get potable drinking water connection by June- 2023.
He stressed that pending development work on the playground be expedited for its timely completion to provide better sports facilities to the local youths.
Expressing his concern over the drug abuse spread, the DC appealed locals to play an active role in curbing the drug menace from the society and safeguarding the young generation. He urged elders and parents to ensure tight vigil that their wards remain away from drugs or any other social evil activity.
Stressing on cleanliness and maintenance of proper sanitation, the DC urged locals to avoid dumping of waste on roadside, drains, streams or anywhere in open areas besides urging locals to cooperate with panchayat bodies for proper disposal of daily generated garbage in their villages.
Among others, SDM Khansahab, Syed Ahmad Kataria, Xen PDD, ARTO, BDO, Tehsildar, DSHO and concerned officers were also present on the occasion.
(NOTE: PRESS RELEASE PUBLISHED AS RECEIVED)