New Delhi, Jan 21 (PTI) Hindi pulp fllms of the 1990s had a cult following, sometimes making more money than a movie with a top star, says director Vasan Bala who tracks the glory and fall of the "underground cinema movement" in the OTT series "Cinema Marte Dum Tak".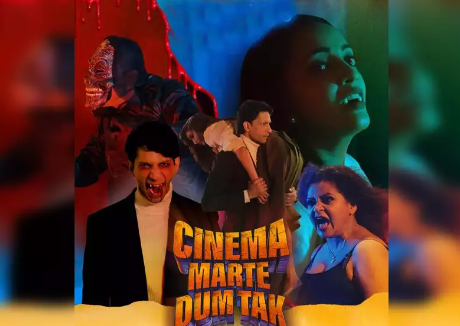 "The show is not just fun and games but a deep dive into who these filmmakers were and what kind of lives they led and what happened to them," Bala told PTI about the series on the movement that ran parallel to mainstream Bollywood, and sometimes even bested it.
"I think people need to know the story and we have tried to present it in the most honest possible way. They will understand the glory and the fall, the aftermath and also the comeback. It makes for a great structure."
Bala, whose films "Mard Ko Dard Nahi Hota" or "Monica, O My Darling" are filled with his favourite movie references, serves as the creator alongside co-directors Disha Rindani, Xulfee and Kulish Kant Thakur. The series premiered on Prime Video on Friday.
The Vice Studio Production's six-episode reality docu-series brings together era stalwarts such as J Neelam of "Sadhu Bana Shaitan" and 'Tadapati Jawani" fame, Vinod Talwar, who made "Raat Ke Andhere Mein" and "Khooni Panja", Dilip Gulati of "Jaan Lada Denge" and "Jungle Beauty", and Kishan Shah of 'Tann Aggan" and "Murda Ghar".
"This (docu-series) is beyond an underdog story; this is actually an underground story. We wanted to understand, in a very non-judgmental way, their process and the lives that they (the filmmakers) have led. We were careful not to make it a spoof. The documentary is just us trying to get close to them and then let them explain where they come from.
"Through this, we got to meet fascinating characters and got to know interesting anecdotes from the era. Meeting these people and understanding their cinema is a huge tick mark on my list," Bala said.
As the profits of these films grew, so did the attention and that eventually hurt the industry, he said.
"Sometimes, they made more money than an Amitabh Bachchan film or a Subhash Ghai film playing on the screen next to them. That's why they suddenly came on the radar. Otherwise, they were very much under the radar… But when your film beats a Bachchan or a Ghai film, people take notice and want to know why you are successful."
"It was an Icarus kind of situation for them," Bala said, referring to the figure from Greek mythology who perished by flying too near the sun.
Bala is confident the show will draw viewers who grew up or were aware of this cinema movement.
Drawing parallels with the B-movies of Hollywood, the director said there were many similarities.
"In fact, The Lord of the Rings' filmmaker Peter Jackson started off as pulpy B-movie filmmaker. In Hollywood, B-movies are really cool. They are the reference point for biggest genre filmmakers," Bala said.
The director said he always admired the "tenacity" that these filmmakers had despite often working under severe budget constraints.
"You admire their tenacity and audacity. They had no fear, the creator's expression is beyond logic and it keeps surprising you. You don't know what they are going to throw at you, it could be horror, then turn into comedy and then drama and then sci-fi. It was like an empty canvas where you could throw any kind of paint.
"It's their fearlessness and the total unpredictability of the film (that stands out). I mean it need not even have a start, middle and end sometimes."
While researching the documentary, the filmmakers were surprised to learn that the industry in the 80s and 90s worked completely on faith. All it sometimes took was a handshake.
"They would sell territories and then start making films. To attract distributors and exhibitors, they needed catchy posters and titles The title and the catch phrase were really important. It should have blood, sex or something exaggerated to catch the attention of the distributor who were more powerful than the producer those days," the director said.
Recalling his memories of a childhood spent hunting for "cool movies" to watch, Bala said there was no algorithm to guide movie buffs unlike today.
"Instead, our video guy would be our guide to all the cool films to watch. At a young age, we could watch films like 'Bad Taste', which was a gory film an 11-year-old should not be watching but we had access to that.
"Then there were Chinese films, French, German films. When you look back, you have the memory of it being really limited but in reality, it was very liberal. It was an interesting and enriching time. Doordarshan curated that for us, our video guide curated that for us."
The docu-series also features actors Raza Murad, Mukesh Rishi, Harish Patel, and Rakhi Sawant amongst others sharing insights on this lesser-known chapter of the Indian cinema. Actor Arjun Kapoor makes an appearance as a host in the final episode.